Man what a weekend!  Momma said there would be days like this but she didn't say how many in a row!!
I always love going to Arena Training Facility to shoot  a match. Not only is it a great facility, but there are great people running all the "behind the scenes".  Eddie Noland and Beth Chandler are always making sure not only is the facility in great shape but they also help the individual shooters in so many ways to ensure they have everything they need. Thank you Arena Training for such a wonderful slice of heaven here in Georgia!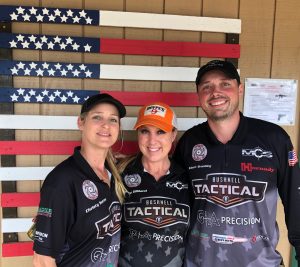 Phil Cashin, the brain and brawn behind Masterpiece Arms and the match director for the MPA Spring Shootout, always puts on a challenging yet fun match. And this match, well was no different.
We all got a late start on Saturday morning due to the fog. The weatherman was calling for rain but luckily for us it only got drizzly and some light rain ensued. There were 145 competitors in attendance along with all the Range Officers (RO) and all the wonderful people doing all the background work to make this a great match.  I was assigned to Squad 1 alongside my GAP/Bushnell Teammate Robert Brantley (aka the King of 2 Mile, you know, that guy).  We had a great squad of guys which helped out alot when a stage didn't go so well! And I had quite a few of those this match.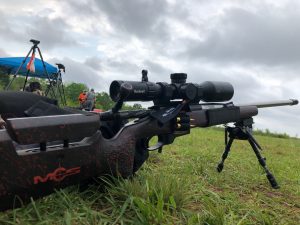 I brought my custom built GA Precision 6mm Creedmoor which I named The Blackwidow. The Blackwidow has the Templar VII action, 26″ Bartlein Barrel, APA Little Bastard brake, Timney Calvin Elite trigger with all this glory wrapped up in a Manners Composite Stock EH-1A. I have the Bushnell Elite DMRII Pro optic with the G3 reticle. My Bushnell is set in Seekins Low Rings. I also run with my Harris bipod 6-9.  I reload all my ammo on my RCBS reloading equipment which includes the Rock Chucker, Universal case prep, Chargemaster lite and the Summit press.  I use Lapua 6mmCreedmoor brass, Federal Premium 205 match small rifle primer, Hodgdon 4350 and Berger 105gr Hybrid bullet. I have the Kestrel 5700 applied ballistics for my data.  All the equipment with the ammunition alongside my Kestrel, work hand in hand together for that perfect shot on the target. All my support bags are by Armageddon Gear.  I carry the Armageddon Gear OG Gamechanger in wax canvas and either the Large Fat Bag or the Big Ass Fat Bag.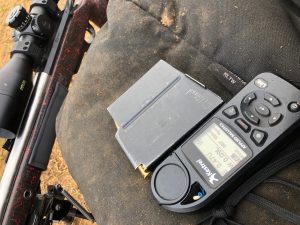 Day one range was on the UKD where our furthest target was 1351 yards. We had 11 stages that we shot that day with ranges from 303 yards out to the furthest of 1351 yards and everything else in between. We shot from some pretty challenging barricades (logs, spools, a tictactoe looking thing) to shooting weak side. Though the wind gods were not in my favor on Day one, I still had a great time with my squad! We all laughed, did a little FaceBook Live video and made the most of the day.
Day Two we were able to start on time and this time we were at the Known Distance range. You know, you look at some stages and think "that is going to be difficult" and that stage usually turns out to be one of the favorites! That would be the "Dinner Bell" stage for me. The Dinner Bell was small bell targets, the first one at 323 yards and the second at 419 yards. You had 1 min 45 seconds to complete the course of fire. At start, shooter will move onto the trailer and engage the two bell shaped targets with one shot each, near to far, from the 4 shooting positions. The trailer was not too stable and shook a little with every shot. I used my Big Ass Fat bag by Armageddon Gear and my Armageddon Gear gamechanger to steady my rifle. I also did a holdover in my optic. I dialed in at my first target and then held over for my second target. Now keep in mind, we had a little bit of wind so I was also holding for wind. I only dropped 2 shots on this stage and that was because the wind picked up (insert frustrated face here).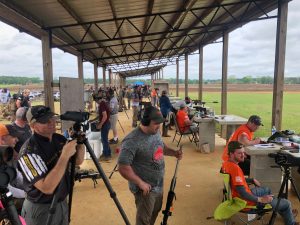 I didn't shoot this match at my full potential and was extremely frustrated at my performance. My rifle and ammo was on point, so it was definitely me. HUGE thank you to all the guys on my squad who helped make this a fun match. What I love most about these competitions is the camaraderie among all the competitors. Congratulations to Joe Walls for the Big WIN and to all the top shooters who placed. HUGE Thanks to the RO's who selflessly gave their time to help make this match one of the best. Thanks again to Phil Cashin and his family for always putting on a great match and making sure all the competitors are taken care of. Another big Thanks to Arena Training Facility (Eddie Noland and Beth Chandler) for being one of the best facilities out there. Greg Moore and others were out there photographing everyone….So thank you for capturing some good pics!
Thank you to all my sponsors for allowing me to run the best gear, rifle and ammo out there! GA Precision, Bushnell, Hoppe's, Armageddon Gear, Federal Premium, Berger Bullets, Lapua, RCBS, and Manners Stocks. Momma said there would days like this. But you just have to smile, hold your chin high and represent those bad ass companies no matter how frustrated you get! Laughing with great company, is definitely the best medicine!!