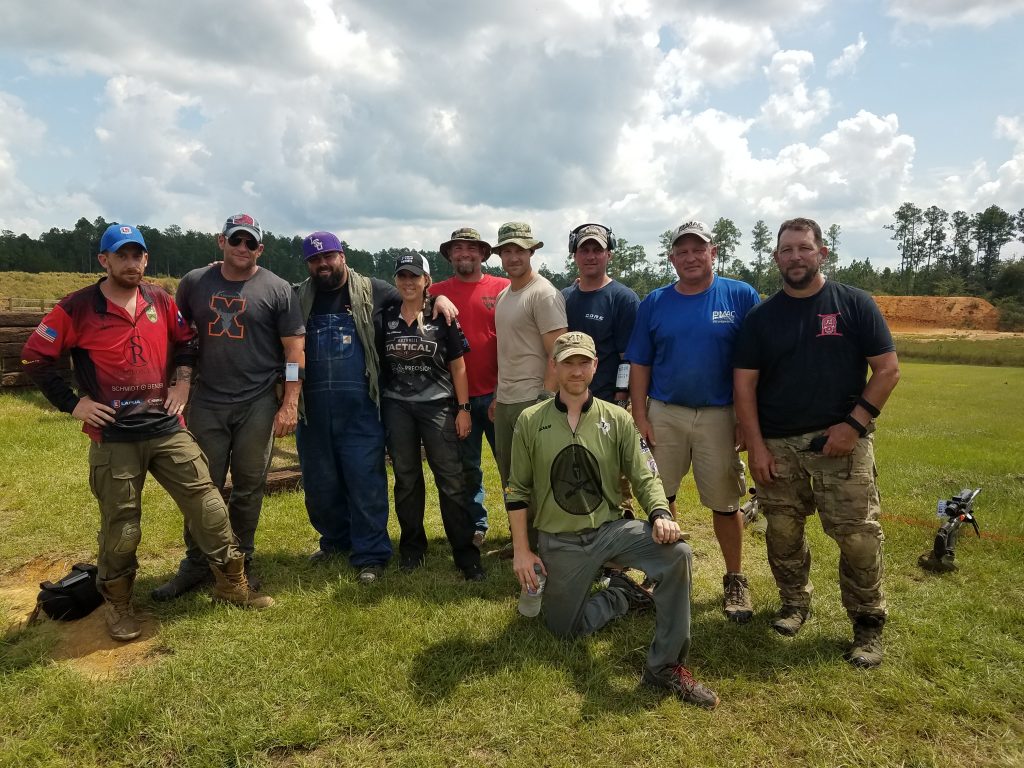 Take the guys of CORE Shooting Solutions (Josh Mann, Mike Mangum, John Watts and Bryan Morgan) and add the infamous George Gardner and you got one hell of a PRS match!! With these guys at the helm, this was one tough/challenging match. CORE Shooting Solutions is known for their long range shooting and the many competitions that they have at their facilities. Located just 45 minutes North of Crestview Florida, this range is an adult playground with firearms. When my Husband and I did a TV show called Trigger Time TV, we had many episodes filmed here. I'm not just saying this is a great range, I'm telling you…THIS is a Great Range!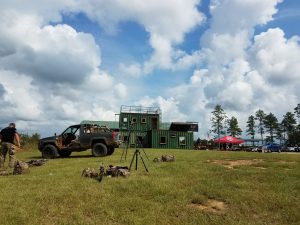 I have been shooting down at CORE since 2013 and I have always considered this range to be my "home" range. I was super excited to shoot this match because not only was the Armageddon Gear "Meat Wagon" in tow but we also brought the Armageddon Gear "Murder Machine" which was used on a stage as a prop. Tom Fuller, hubby Jim Gilliland and myself drove down early Friday morning. Once arrived, the Murder Machine took to its place on its stage and the Meat Wagon was parked and organized inside for sales. That evening, we got checked into our hotel then off to "Bamboo" Sushi restaurant to meet 30 other competitors for dinner. If you are ever in Crestview Florida, Bamboo Sushi restaurant is a must stop!!
Up at the crack of dawn with 2 coffee's down, I was ready for day One.  After arriving at the range and heading off to our 1st stage of the day, I was excited to see everyone who was shooting on my squad 9. I don't think I have laughed as hard as I did with this squad ever. All these guys were great to be around all weekend long. Though you are all competing against one another, everyone helped each other. This is probably one of the biggest things I love about this sport is the camaraderie among everyone. Huge Thanks to Christy Sutton for organizing supplies to be brought back to Texas for those affected by Hurricane Harvey. Thank you to Brian & Christine Allen for renting a Uhaul box trailer and to Ryan Hey & Matt Brousseau for volunteering to take the items back. They collected a few truck fulls and a trailer full of supplies from everyone in attendance. This long range community never ceases to amaze me.  
One of the fun stages on Day One was the "2 position TYL". Upon the command "engage" the shooter went prone and the engaged the TYL rack with up to 5 rounds. The plates were from largest to smallest, hit to move on. Once those 5 rounds were exhausted, the shooter transitioned to a position on the tires and repeated the process for a second 5 rounds. Time: 90 seconds. Round count: 10. Distance: 800 yrds. I didn't do so well on this one as the winds completely stopped when I transitioned to the tire. The wind Gods must laugh when I get up on a stage and say "Hey look, its blondie" The winds will blow hard and then stop suddenly…ugh. We finished Day One around 3:00 pm and everyone was exhausted. That Florida sun beating down on you all day with all the humidity is physically exhausting. After getting back to the hotel and showering, it was time to meet everyone at Hooters to eat and watch the Alabama vs. Florida State game. All I'm going to say is…..Roll Tide Y'all!!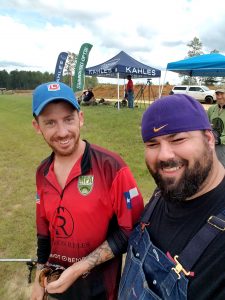 Day Two was upon us, and it was time to buckle down as the day before didn't fare too well for me. My squad started the day with "Go Big or Go Small" stage. Before the stage started, you had to choose to shoot the big target for 1 point or the small target for 2 points. You could not change your mind after your first shot. On command "engage" the shooter assumes position 1 on the barricade and engage chosen target with 3 rounds hit or miss. Then shooter transitions to the next position and repeat with 3 rounds and then transition to position 3 and repeat. Time: 90 seconds. Round count: 9. Target: 12″ circle or 8″ circle. Distance: 410 yrds. Max score: 18 .. Most of us decided on this stage to go for broke and go for the small circle. It fared well for some and not so much for others as the wind kinda got involved (again).
One of my favorite stages (which always involves a Prairie Dog target) was "Curtis Custom Hunting Trip". Shooter will engage animal targets from near to far. Each target can only be hit once, but the shooter may attempt as many times as they like until a hit is achieved or until they reach the max round count. Targets can be skipped but once you pass a target you may not go back. Time: 90 sec. Round count: 10. Targets/distance: Prairie dog1 (on a pole) 283yrds; Prairie dog2 (on a pole) 330 yrds; Prairie dog3 (on a pole) 362 yrds; Pig1 435 yrds; Pig2 575 yrds; Coyote1 610 yrds; Coyote2 660 yrds; Kangaroo, 728 yrds. Max Score 8 … It only took me 8 rounds to clean this stage.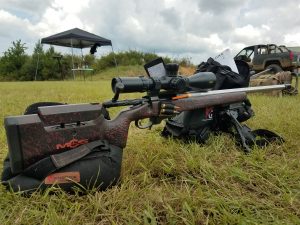 My custom built GA Precision 6mmCreedmoor with Templar V2 action just screamed at this match! I have a 25″ Bartlein barrel, APA Little Bastard brake, Timney Trigger in a Manners Composite Stock. Along with my Bushnell Elite XRS 4.5-30 (I didnt have time to put my new XRS II on before) and my reloaded ammunition which consists of Federal Premium 210M primers, Alliant Reloder 16 and Berger Bullets 105gr Hybrids, just getting the wind calls right was what I needed. I clean my rifle with Hoppe's #9 and always keep some Hoppe's Gun Medic handy during matches. All my reloads are done on RCBS equipment. I couldn't be more pleased with their products! I use my Armageddon Gear precision rifle sling on alot of different barricades along with the shooting bags and rear bags. During cool months of shooting, I will wear XGO base layers under my competition jersey. XGO also has this sun hoodie which is amazing. Lightweight and keeps those harmful sun rays off you!
I just wanted to quickly note something. If an RO tells you that you are on the wrong target, believe them! LOL, it must have been the heat to make me feel rogue on a certain stage. Next time Rudy, I will listen to you.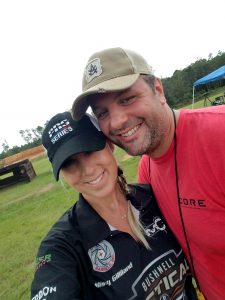 I want to thank all the guys at CORE Shooting Solutions: Josh Mann, Mike Mangum, John Watts and Bryan Morgan for opening their doors to another great PRS match. HUGE thanks goes out to George Gardner for all his hard work setting the match up. Thank you to all the RO's who were there to make this match a success. (Also big thanks to Eric Lundberg for my big bag of gummy bears from around the world!!) To all the guys on squad 9, you are the best!!  Congrats to Matt Brousseau for taking away 1st place (and who was blast to be with on my squad) and to Shannon Kay 2nd place and Tyler Payne 3rd place. Congratulations to all the Top spots including Top Female Christine Allen (Love ya girl)!.To all my great sponsors:  GA Precision, Bushnell, Armageddon Gear, Hoppe's 9, Federal Premium, RCBS, Berger Bullets, Manners Composite Stocks and XGO. All my equipment ran effortlessly and I couldn't be more proud to wear all these brands on my shirt.  Thanks to my Husband and my family for always being my rock. I love you guys!
If you are looking at getting into these long range matches, take a look at Precision Rifle Series. These matches are all over the USA with them popping up in Canada and Africa. Big shout to Brian Dennis for everything he is doing for the PRS. It just keeps getting better!