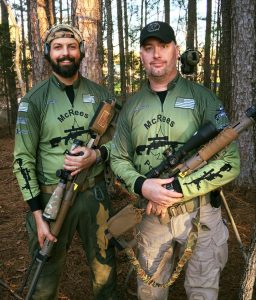 John Cuckler and Richard Crouse of Steel City Precision are no strangers in the long range community. They both have been running matches for quite a few years now. I have shot several of their matches and they never disappoint.This year was no different. A cool aspect to their match is that they donate proceeds to a sniper association. This year, proceeds went to the Scout Sniper Association. At the time of this article, there was still a raffle raising money for SSA. To date, right at $16,000 has been raised. John Cuckler, Richard Crouse, Austin Cook and Patrick Powell did a tremendous job this year and I really want to give them a HUGE thanks for all they do in our sport. This year their match was held at King B Farms. This place was so beautiful it is hard put it into words. Rolling hills, barricades and steel targets…..doesn't get any better than that!
My husband Jim Gilliland was scheduled to shoot this match, but got extremely sick the week of with a horrible chest/head cold. It wasn't the flu thank goodness! But with the weather calling for 100% chance of rain on Saturday and another 60-80% on Sunday, Jim decided it wasn't in his best interest to go. But I still attended.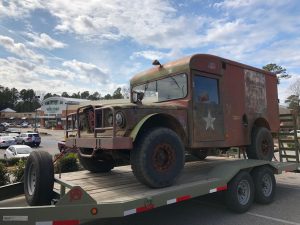 My 40 hour week job is running Armageddon Gear. Tom Fuller and I headed out Friday morning with the Meatwagon in tow. For those of you not familiar with the Meatwagon, it is a 1967 Jeep Kaiser Ambulance. Pretty darn cool too! A few years ago, Mad Matz Unique Jeepz restored the engine and gave this old thing a great tune up and little face lift. The back end of the wagon is now designed to hold alot of Armageddon Gear as well as a cooler for a frosty cold beer for after the match. So with the Meatwagon in tow, we headed to Ardmore Tennessee. I won't go into details about a tire blowing out on the Interstate near Cullman, but that was definitely a scary adventure within itself!  After arriving at our destination several hours later, we were match ready along with our shooting GAP Teammate Jeff Badley.
Saturday morning started early at 7:00 am with the safety brief and rain on the horizon. Squad 6 started on the backside of the property so we all had to ride in the back of a Humvee to get there. Our first stage was the Open Field Assault. You had to engage the first rifle target from the standing un-supported position and shoot your steel target at 140 yrds with a max of 3 impacts, once that happened you had to sprint to your next position and shoot another target at 235 yrds in the kneeling un-supported position with 3 impacts. You then sprinted to your next position and shot the target at 350 yards in modified prone position with 3 impacts. Once that was completed, you made your way to the pistol area and engaged 3 targets with 2 impacts each. I just kept thinking to myself, this is not how I wanted to start my first match of the year in these funky positions and then, the rain started. I went ahead and shot this stage to end up dropping one target. Huh, not too bad.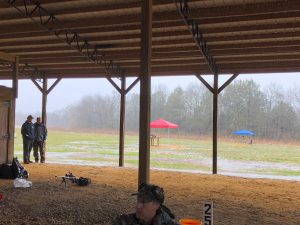 The rain….didn't stop. It didn't stop at all and continued throughout the day. Heavier at times, and letting up just a little at other times, but never just stopping. I had a really great squad that included two of my teammates from GA Precision, Tom Fuller and Jeff Badley. I think when you are in a competition, not only is the sport itself fun but the people you surround yourself with helps make a match even better. And if you ever get to squad with Keith Henline, Tom Cuthbert, Brent Keith and some of those guys, you are definitely in for a treat all weekend long!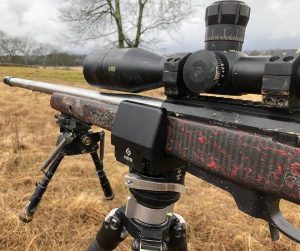 By mid day Saturday, I was hearing that some guys were having malfunctions and failures with their rifle. I am so proud to be shooting and representing GA Precision. Not once did I have any problems with my rifle, the Blackwidow. My rifle build consists of custom built GA Precision 6mmCreedmoor Templar V2 action in a Manners Composite Stock, 26″ Bartlein Barrel, APA Little Bastard Brake, Timney Trigger, and Bushnell Elite Tactical XRS 4.5-30 optic. I reload my ammunition which consists of Federal Premium 210 Primers, Berger 105gr Hybrid bullets, and Alliant Reloder 16 powder. I hand load these on RCBS equipment which consists of a Rockchucker, Universal Case Prep Center, Tumbler, ChargeMaster and Summit press. My rifle and ammo set up is rock solid and I have so much confidence in my gear. During the day, it was nice to hear another competitor say "Unless you were running a Bushnell, you couldn't see targets". I have been preaching this for a couple years now, Bushnell really makes top quality scopes. This isn't the first time I have shot in downpour rain. The rain beads right off your optic. And what fog? Unless you accidentally breathed on the lense of your scope (don't ask how I know this), there was no fogging up going on.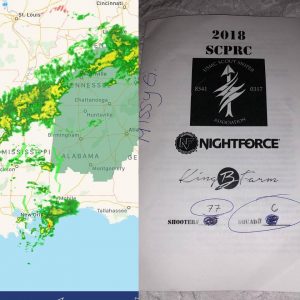 We finally made it to an area where we had a little bit of cover. By the time we made to this spot which was early afternoon, my shoes were drenched with water and mud. Having wet feet, running through stages and being cold was a little bit miserable. But, I kept going. One of my favorite stages for Saturday was the Larue Rapid Bolt Hustle. There were two arrays of Larue targets. Five targets were at 586 yards and another five were at 744 yards. The shooter stages up to three magazines loaded with a MAX of 5 rounds. You staged these magazines weak side of your rifle. You started standing up with your rifle on the ground. On command, you went prone and retrieved 1 magazine, loaded rifle and engaged the closest Larue targets from left to right with 1 impact each. If at anytime you missed a target, you had to exchange magazines and re-engage the previously missed target. Once you cleaned the closest targets, you had to engage the far array in the same manner. You had 1 minute 30 seconds with a Max round count of 15. On the command, I jumped down in prone. It was raining and I could see the slanting rain at my target which gave me an idea for wind hold. I held .5 mil from center of the 1st target, Impact! I continued this all the way to the 5th target…I quickly dialed my DOPE for the 744 yard array of targets. This time I held a little more for wind. IMPACT! I kept this hold all the way through the 5th target….Perfect Clean! Guys on my squad hollered and it felt good to hammer those targets!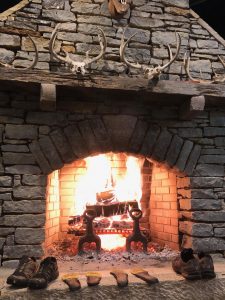 My squad finished up with a more few stages which ended our Saturday. It was time for a great dinner, whiskey tasting then a nice HOT shower and comfy bed!!!  Corner Pit BBQ cooked a delicious meal. Tennessee South Distillery was there with a whiskey tasting and vodka tasting. The owner of the property Keith B., had an absolute beautiful home that he shared with all the competitors. He has a gorgeous outdoor fireplace that alot of us happily stood around and even threw our shoes up by it to try and dry them out. After a full belly, a warm fire and a warm drink, I headed back to my hotel to get my gear dried out for the next day. Hoppe's 9 to the rescue! I immediately dried my rifle off, took the bolt out and dried out the action and applied Hoppe's 9 Gun Medic to my bolt. After giving my rifle a nice clean rub down, it was on to my Glock 17. I took that sucker apart, dried it out and re-oiled it for the next day.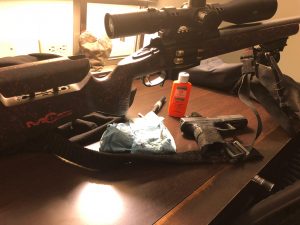 Sunday morning arrived pretty fast after I closed my eyes. My squad had 6 stages to shoot to complete the match. One favorite stage was the Dump Truck stage. Yes it was still raining a little and fog had moved in. Because it was our next to last stage of the competition, you could imagine how many people had already ran this stage. Your feet sunk in the mud and the back of the dump truck had at least an inch of mud in it. You started at the bottom of the ladder with all your gear on you. Because of the rain, mud and slipperiness (I just made that word up I think), you had to put your rifle in the dump truck and retrieve it once both feet was in the bed of the truck. You had to build a position and engage the 5 targets from largest to smallest (20″, 18″, 16″, 14″ and 12″) on the 882 yard TYL rack in two evolutions. You had to hit the target to move on. You had 2 minutes to complete the stage. Once I got in the back of the dump truck I made my way to the front. I put my Armageddon Gear wax canvas gamechanger on the front and placed my rifle on it. Rifle was steady. Then I climbed up on the top ledge and shimmied myself into a stable position by placing my backpack under the shoulder stock of my rifle. I was rock solid. I shot all five of the targets by watching my impacts and making the wind corrections. I then started over with the first target to complete my second evolution. At this point, the wind couldn't decide if it wanted to gust, to stop completely and then gust again. My impacts were all around the target. I didn't score high on this stage, but it was definitely one of the most fun stages.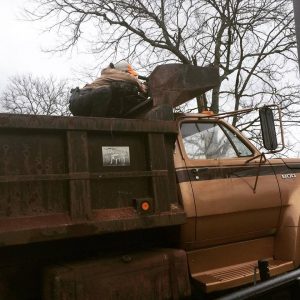 Sunday ended with all the competitors gathering back at the owners home around the big outdoor fireplace for the awards ceremony. Big thanks to all the RO's who selflessly gave their time to be in the weather over the weekend. There were 128 competitors who signed up for this match. Congratulations to Matt B for Winning the match and to Jason Greene 2nd and Matt Rooks 3rd. Congrats to my GAP teammates Gerald Delk who came in 4th with Jeff Badley 6th and Tom Fuller 13th. I had 5 stages that I struggled with due to weather and that landed me in 41st. Never…Give….Up. Thank you to my wonderful sponsors for providing me with gear that can withstand downpours, mud, cold and not so favorable conditions. G.A. Precision, Bushnell, Hoppe's 9, Armageddon Gear, RCBS, Federal Premium, Berger Bullets, and XGO.