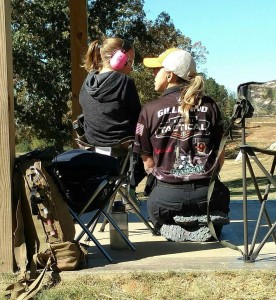 The 2016 Bushnell GAP Grind Pro/Am has always been a great match for new shooters to attend. This is the 2nd year that it was held at the facilities of K&M Precision Rifle Center in Finger TN. The format of the Pro/Am is that a new shooter is paired up with a Pro shooter. The Pro shooter basically shows the Amateur the ropes of how the Precision Rifle Series matches flow, stage preparation and how to approach each stage. This is really a great match for shooters that have been hesitant or intimidated about going to their first match.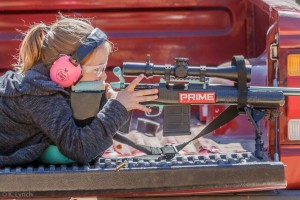 This year I had the honor of having MaryBeth Olson, a 9 yr old new shooter, as my partner. MaryBeth has attended several long range matches with her Dad and has done a great job at her local matches in Colorado. George Gardner of G.A. Precision sent me a text a few months earlier letting me know who my partner was. I was really anxious and excited for this match! MaryBeth is sponsored by Prime Ammunition and is shooting a G.A. Precision custom built 6.5 Creedmoor in a Manners Composite Stock. She shoots suppressed so Armageddon Gear had to set a sister up with her very own personalized suppressor cover and gear!  I of course shot the match with the Blackwidow, my custom built G.A. Precision 6Creedmoor in a Manners Composite stock topped off with a Bushnell Elite XRS 4.5-30. I do all my own reloads with my RCBS set up that includes a ChargeMaster, the Summit and a Rockchucker. I only use Berger Bullets 105 gr Hybrid along with Hornady 6mm Creedmoor brass and Hodgdon 4350 powder.  All these components help make up my ammunition and my G.A. Precision rifle just eats it up. I love it!!  
The Friday before the match is the day that you can get together with your partner and go over stages, wind calls and get to know them with their rifle. MaryBeth and I spent a few hours together that Friday going over positional shooting, wind calls and seeing exactly where she was in the game. It was enjoyable to spend the afternoon with her and I knew after those few hours, just how special she is. After we spent time on the range together, MaryBeth hung out with me in the Armageddon Gear meat wagon. She helped me sell some gear and we got to share some shooting stories with each other.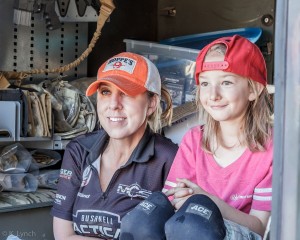 Saturday morning started early. MaryBeth and I met up and attended the safety briefing together. MaryBeths mom (Carroll) stayed with us those two days while her Dad (Zach) helped with RO duties. MaryBeths parents are so supportive of her in this shooting sport and I think that speaks volumes on their behalf. MaryBeth and I started out Saturday by hitting each stage pretty hard. For her to be the age of 9, out here shooting and understanding her rifle and scope is so remarkable. I was in awe of this little girl as the day went by. She has her shooting fundamentals down plus she stays on her rifle after she shoots and is able to spot her own impacts and make the necessary adjustments. This just goes to show you that no matter what age you are, you can definitely do anything you put your mind to.  All day Saturday, MaryBeth and I rang alot of steel!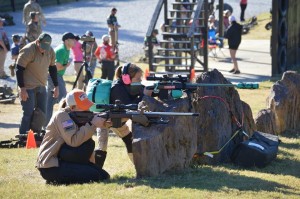 MaryBeth was definitely a little trooper throughout both days. She carried her own rifle from stage to stage and insisted that she carry it all day. At days end Saturday, she grabbed herself a Dr. Pepper and put her Armageddon Gear personalized can coozie on it…..I mean Hey, she's gotta keep her drink cold too!!
Sunday morning started bright and really early. Shannon Kay, match director, put out the AccuShot cards and ½ the shooters were to shoot their card by 6:15 am and the other ½ had to shoot theirs by 6:45 am. The Accushot cards are playing cards with a crosshair in the center. At most matches, this is usually a cold bore shot. Shannon had these set up at 100 yards. The person closest to the center or right on the center of the card wins an Accushot gift card. It was a little chilly that morning so I got to try out my new XGO base layer clothing. Let me tell you, this is the best base layer I have ever wore!! I didn't even need a jacket and that says a lot for me.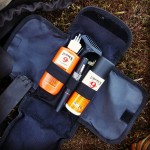 And talking about Sunday, I swear I have never attended a match where I didn't have to pull out my Hoppe's 9 range kit. This perfect little piece of kit has saved alot of competitors. MaryBeth was having problems getting her rounds to feed so I whipped out my cleaning kit. She had dirt in her chamber but we got it cleaned up in no time! On another stage, a piece of brass got stuck in another competitors rifle. Within seconds, I had the Hoppe's cleaning rod and attachment together so we could knock out the piece of brass. I always carry with me this Hoppe's range kit and small bottle of Hoppe's Gun Medic that all fit snugly in my range bag. Perfect for any situation!
The last stage of the day on Sunday, MaryBeth ended the match with hitting a 300 yard mover several times on a positional stage.  We shot a total of 25 stages for the weekend. I was so inspired by MaryBeth. She has the tenacity, the drive and will to be a top PRS shooter here in the very near future. I wish my parents had started me out young like this!!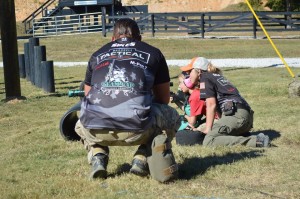 On my squad was my fellow teammates from G.A. Precision. Each and every one of the guys stepped up and helped me out when it was needed most. Because of MaryBeths size, it was hard for her to jump up in the back of a truck with her rifle or climb down steep steps that were about as tall as she was. Though my teammates had partners of their own, they helped hold my partner in place or helped her with moving her rifle on certain stages. Thank you so much to Jeff Badley, Bryan Sikes, Tom Fuller, Bryan Yeung and Charles Roberts.  I truly know now how a Team works together in a match and I couldn't be more prouder to be a part of this elite team.
Thanks to George Gardner and Shannon Kay for another great Pro/Am and for allowing me to be MaryBeth's partner.  Thanks to Bushnell for being the Title Sponsor and to Sherryl Nens, Tim Tanker, Kyle Nishi and gang for making it out to the match. Thanks to all the sponsors who donated to the prize table and provided lunch both days. Thank you to the ROs who selflessly spent their time on the range that weekend. Congratulations to the guys/gals who took the top spots and to all the competitors out there!! It just takes that one time to step out on the range and learn the format of these matches. There are so many competitors who are willing to help you along the way. To learn more about this match and more, visit the Precision Rifle Series at  www.precisionrifleseries.com.  I would also like to thank my Sponsors for allowing me to be able to do what I love and for helping me run only the finest of equipment:  G.A. Precision, Bushnell Tactical, Hoppe's 9, Armageddon Gear, Berger Bullets, XGO .  Please visit their websites by clicking on their names with links provided.