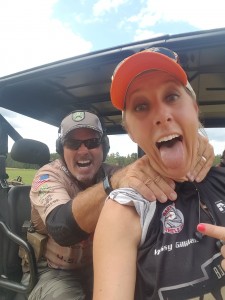 The past three months have been filled with many events. The month of May was filled with a match every weekend. I traveled to Alabama to shoot a one day match at Alabama Precision, then to Florida to CORE Shooting for the MPA PRS match and then off to Tennessee for the K&M Precision Rifle PRS Match.
June was filled with a couple matches and my Vista Outdoor Ambassador Summit. I traveled to Childersburg Alabama to participate in the Alabama Precision PRS Remington match.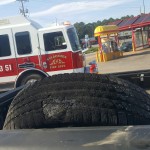 This was the match where on the way, my Husbands truck caught fire! Somehow the muffler fell on to the spare tire and poof!! When we arrived in Childersburg we had smoke bellowing out from underneath. Luckily for us, when we pulled over (and after tossing out rifles, ammo and everything else), the Nissan dealership employees came running over with a fire extinguisher and got the fire out! We had the opportunity to meet and shake the hands of the local police department and the Childersburg Fire Department. The Alabama Precision PRS match itself was a fun one. For two days we shot in extreme heat. We had a great squad and Bradley Allen took the Win!  As soon as the match was over, I had to jump on a plane and head to Kansas where then I was shuttled off to Missouri for Vista Outdoors Ambassador Summit.

It was great learning more about Bushnell, Hoppes and all the other brands that Vista Outdoor owns. That week was filled with alot of great, indepth information as well as camaraderie with other Ambassadors of the Vista Outdoor brands. We all stayed at the beautiful East Fork Lodge. Mornings were filled with coffee, lectures and product info with the afternoons filled with lots of shooting!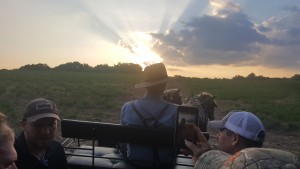 One of the highlights of that trip was the Amish buggy ride. We were treated to a buggy ride to tour the property and the ride itself was nothing short of an adventure. We came upon a hill (quite a few afterwards) and the horses decided they weren't going to pull all of us up. So myself including John Scoutten and Michael Waddell wound up trekking up the hill ourselves. It was really hilarious!! I really met alot of wonderful people on that trip.
June was also the month that I competed in the Big Dog Steel Precision Rifle Team match in Cookeville TN with none other than my Bossman Tom Fuller of Armageddon Gear and Team GAP/Bushnell teammate. The sun was hot and beating down on us those two days but we wound up placing 14th out of 38 teams.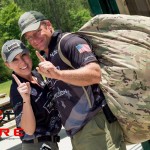 July gave me a little bit of down time as I vacationed in Florida the first week with my family, but then I was back to training upon arriving at home. Jim and I both competed in CORE Shooting Solutions one day match in mid July where I came in 3rd place.  The month of July ended on a high note for me and my husband, as we both picked up a new sponsor, the coveted Berger Bullets.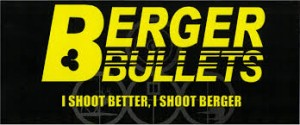 I have been shooting the Berger Bullet 105gr Hybrid this past year since I got picked up by GA Precision. I have had nothing but satisfactory performance with it and I am super proud to be representing this company. Have I mentioned how the Blackwidow (the name of my GAP rifle) just loves Berger??  My custom built 6 Creedmoor GA Precision team rifle has the Templar V2 SA with a Manners Composite Stock MCS-EHT GAP elite, Bartlein 25″ fluted barrel with a Timney Trigger and American Precision Arms Little Bastard G2 brake. I have my Bushnell Elite XRS 4.5-30 optic mounted on top and all this beauty is always maintained with Hoppe's #9. Though the summer has been super busy, I am going to do a much better job of keeping this blog updated with gear reviews, match reviews and of course, maybe a few coffee reviews!  Until next time……..