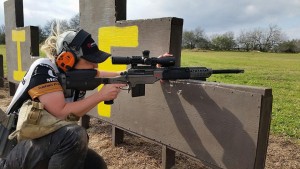 As I left my house early Thursday morning headed for Atlanta to catch my flight to Corpus Christi, Texas, I just couldn't get warm enough even though I had layers of clothes on with my heavy coat. It was a crisp 27 degrees but felt like -1300 to me. I was looking forward to shooting in warmer weather and well, just looking forward to the warmer weather in general!
As our plane came to a screeching halt in Texas, I looked out over the horizon and noticed dust balls, dust clouds or whatever they call them, kicking up with great speed. Again, I wasn't paying attention to how windy it was, just so happy the weather was much warmer now than how I left it 6 hours earlier!
Match day got started early at 8 a.m. I had my competition rifle Jake  and all my gear ready to hit the stages. Jake is my custom built Ashbury Precision Ordnance 6.5 Creedmoor that is wrapped in the SuperSport chassis with my Bushnell Elite XRS 4.5-30 scope. I use Hornady 140 gr AMAX for ammo. There was a light breeze and much anticipation in the air with the 120 shooters that were present. I love how Lisa and Jacob Bynum run their match at Rifles Only. Instead of squadding everyone up, they open so many stages at one time and you choose what stage to shoot in what order. There are several pistol stages, so you had to wear your pistol the whole time during the match. My Husband Jim was fortunate to score a spot (last year he was my caddy), so he was right with me every step of the way.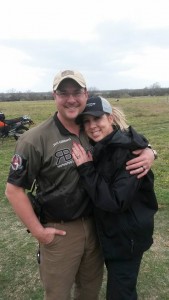 Our friends SFC Brandon Green (from the U. S. Army Marksmanship Unit) and Stephanie Payne walked the course with us. We all decided to do the Helicopter stage first and the winds were starting to get a little stronger. This stage is one of the shooter favorites!  Before approaching the helicopter, they put a rigger belt around your waist. When you approach the helicopter, Jacob then attaches you to the safety strap and then places a headset on you. Once you get comfortable with your rifle, off you go. This particular stage required 5 pistol rounds and 16 rifle rounds. Once airborne, the aircraft flew over to a large container (looks like it contains some sort of powder), and you have 2 shots to hit it. Then you get flown to the trench warfare. Your first stage when you land is a pistol stage that you engage 5 rounds. After this you jump down in the trench. You have three different positions that you must shoot from with 3 rifle rounds at each position. Oh and did I mention, you are still on the clock with the helicopter being your "clock". Once the chopper gets back with the next competitor, your time is up. The trench is no laughing matter. You have to find a good stable position while avoiding the prickly cuckaburrs that stab in your arm all while trying to get your first three shots fired. You must take your mag out and climb through the obstacle in the trench to reach your second shooting position. Again, once your three shots are fired, mag out and you had to climb through a concrete culvert to get to your third position (go ahead and envision the bruises on your knees and shins not to mention the elbows). This is probably one of the funner (yes I made that word up) stages of the match.
The winds kicked alot up by the time I got off the helicopter stage. Kestrel's were clocking winds up to 38 mph that day. Each stage had its own difficulty and that's not counting the wind.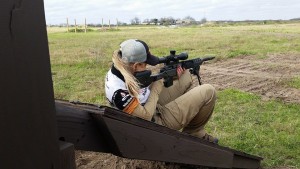 The rooftop stage gave you 5 different angled simulated rooftops to shoot from. This along with 25 mph with your target at 540 yrds is no easy feat. I was fortunate to have a Harris bipod that cants so I could use this feature on the side rooftops. With my Bushnell Elite XRS scope right on target, it made firing the rounds a lot easier by being able to see your trace. For the rest of the day, the wind itself never died down. It stayed variable between 18-35 mph, which made all the stages on top of their own difficulty, well difficult. There were stages with moving targets, and some that had a paper target with 1" dots that you shot weak side off of a barricade at 60 yrds. I utilized my Armageddon Gear sling on the kneeling stage that you had to shoot 5 rounds at 400 yrds. I love this sling because once you get in it comfortably, your in and your rifle is rock solid. And talking about my sling, due to the high winds, on the Net stage you had 5 shooters start from the top each taking a turn. I was proud of myself on this stage. I'm a little afraid of heights. After you shot your 1st rounds, you had the choice to climb over the barricade at the top of the net and climb down the other side, or you could scoot back down the net. Jim was shooting next to me and I went first. After my first rounds were shot, I took my rifle which was still strapped to me by my Armageddon Gear sling, and climbed over. When I started climbing down I looked at Jim and smiled real big and said "I'm actually climbing down"!!
Day one was most challenging with Day 2 being somewhat better when it came to the wind (Day 2 wind was 10-18 mph). The 2nd day wrapped around 3:30 pm with a great Barbecue brisket that was prepared by Lisa Bynums brother. Congratulations to Jim See for placing 1st and all the winners/competitors who competed. Thanks to Bushnell for sponsoring another great match. Thanks goes out to all the sponsors that donated prizes (Especially Patriot Cases which I picked up) and to Lisa and Jacob Bynum for hosting another successful match. HUGE thanks to my sponsors Ashbury Precision Ordnance, Bushnell Tactical, Armageddon Gear, Wiebad, Spuhr mounts, GunGoddess.com and FrogLube. See you all at the next match!