Gary Larson, National Match Director. The name alone means a lot of great things to many different people. You see, Gary grew up in foster care since the age 12. Gary went between state-run orphanages and foster families. Right before he aged out of the system, Gary was adopted by his case worker. His life was forever changed. To hear Gary tell his testimony, will bring tears to your eyes and happiness to your soul. The Guardian Long Range is a charity event that gives back to Bethany Christian Services. Every match fee and raffle ticket bought, goes directly to Bethany Christian Services.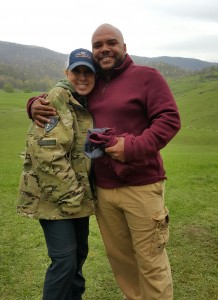 To date, this match has raised over $50,000 for orphaned and vulnerable children being cared for by Bethany Christian Services. A couple of years ago, Gary had this vision of creating these matches with all this mind. He had a plan, a venue and was ready to go. He reached out to me in the very beginning and once I had done my "Google" research, I was on board 100%.  Wytheville Virginia at Bangsteel (Dan Newberry) was the beginning of these many matches. Now, 2 years later, Gary has been able to bring his vision to life by holding many Guardian matches a year, along with dedicated ranges all over the US. This year, Frontline Defense in Warrenton North Carolina was on board with the April 2nd match. Match Director Paul Smith was over accommodating to have this match held at his facilities. With no charge to Gary, Paul and his team did an outstanding job by not only holding the one day match, but also holding a Night match the evening before. Enough credit cannot be given to Paul Smith and the many RO's who selflessly gave their time and weekend to be here. Thank you simply does not cover it.
With an 8.5 hour drive ahead of us, Jim and I left our home early Friday morning. After many entertaining talks, driving through rain and pit stops, we finally arrived in Warrenton, NC that evening. Matt Peterson and Travis Bankston with Ashbury Precision Ordnance met up with us and Gary Larson for dinner. Though I am no longer a shooter with APO, We are still family and I will always forever be debt to them for helping jump start my shooting career. After many stories and laughs, we all retreated back to our hotel to get a good night sleep.
Saturday morning there were clouds but no rain yet. Jim and I were on "Team Samson" along with Brandon Ford, John McQuay, Josh Jeffords, Lee Satterfield, Matt Peterson, Mike Walpole, Sarah McQuay, Scott Whitehead, Travis Bankston, Kevin Gray and Wade Moeller. We had such a great group of people to be with all day.
My GA Precision 6Creedmoor in a Manners EHT stock was ready. As I fondly call it "The Blackwidow" this little rifle is nothing but short of a slaying! With a 25″ Bartlein barrel with APA Little Bastard brake and GAP Tempest V2 action, Not one single problem was had with this gem. I top off my rifle with my Bushnell Elite XRS 4.5-30 scope.  If you haven't shot a GAP rifle, I suggest you do so. You will be hooked with every Impact you have!
Every stage was biblical related. There were eight stages with 10 rounds for each stage and 99.9 seconds to complete each stage. The first stage of the day for my squad was "Noah's Ark". You started with an empty chamber, safety on and mag in. When the buzzer sounded, you climbed into the boat, grabbed the stuffed duck and lamb which you had to use instead of a bipod. Once in position you had 5 targets to shoot with 2 rounds each. When I got up for my turn, the rain started. The boat was suspended so of course it wobbled. Once in position, I was able to successfully hit 7 out of 10. The rain continued to pour down through the next 3 stages.
One of my favorite stages was "Moses". You had a baby doll in a basket at your starting position. Once the buzzard sounded, you grabbed the baby then used it as a prop on the log to shoot 8 rounds at 3 designated targets at 180 yrds, 426 yrds and 536 yrds. Once you shot your 8 rounds, you transitioned to the platform, along with the baby Moses of course, and shot your remaining 2 rounds. Of course this was my favorite stage as I cleaned it in 86.57 seconds!  I used my Armageddon Gear Fat Bag to use for my elbow to prop on to get a firm, stable position.
After your first four stages were shot, we all met up and lunch was provided to every shooter. It was a delicious barbeque, slaw and potato salad. After everyone had their bellys full, it was on to the next four stages. And thank goodness the rain stopped and the sun started peeping through the clouds!!!
The Last four stages were challenging yet fun. You had "Tower of Babylon", "Samson", "Stairway to Heaven" and "My Brothers Keeper". It was a lot of fun shooting all these stages with our squad. Everyone had such a great personality, you just couldn't help but have a great time. A squadmate had a little problem with a case breaking in his rifle and got stuck. Hoppes 9 range kit to the rescue!! This awesome field kit not only has the lube and cleaner in it, it also has cleaning rod, attachments and cleaning patches. I was able to quickly put together the rod, then attach a cleaning brush. When entered into his chamber, the other piece of brass quickly fell out. I always carry a small can of "Gun Medic" with me. At least once during this match after the rain, I had to spray a little on my bolt. After this my bolt started running smoothly again.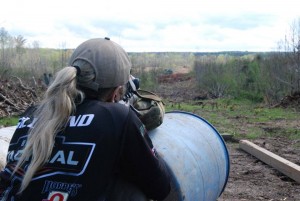 The stage "Samson" had 5 empty barrels stacked up. You had to knock over the barrels then shoot 2 shots off each barrel at the given distances of 132yrds, 260yrds, 350 yrds and 441 yrds. I used my Lifeline on this one as it added an additional 20 seconds to the time to complete. I wound up with 7 hits within 110.59 seconds.  It was fun to watch how every competitor completed this stage. With my Bushnell Elite XRS, I was successful in using holdovers. And talking about my Bushnell XRS scope, I have put this poor scope to hell and back and it has weathered through it all. Two weeks ago at the LRSE match in Kentucky, it rained the 2nd day. I fell in mud on my last stage and my poor rifle took the fall too. Through that mud and rain, it handled great with no problems. No fogged lenses or anything. Bushnell definitely makes great quality scopes that I am grateful for!
Overall, this charity match was such a huge success. With 67 shooters in the match, the stages ran flawlessly. Having quality match directors really help!! Thank you again to Paul Smith and his crew for their hospitality and professionalism. Thank you to Gary Larson for another Guardian match. Your vision and passion has not gone unnoticed and I think I can speak on behalf of all the shooters who congratulate you and Thank you for this.  Big shout out to Scott Whitehead of Best Targets for the awesome trophies!
The scoring was done a little different. As Jim explained to me AFTER the match, your misses deducted time and your overall time to complete the stage was factored in.  Say What?!!  I didn't realize that until AFTER the match and Jim sure as heck didn't tell me during it. I thought it was like a normal PRS type scoring match.  I was wondering why the ROs was telling the scorekeeper the time it took for the competitor to complete the stage. I figured maybe it was to break a tie. Thanks Honey. Anyway, Congrats to Andy Slade for taking away 1st, Sam Barr 2nd and Dave Moore 3rd.  I walked away with Top Lady and 21st place. Huge thank you to my sponsors, GA Precision, Bushnell Tactical, Hoppes 9 and Armageddon Gear for being so wonderful and supporting me. Until next time Guardians……..