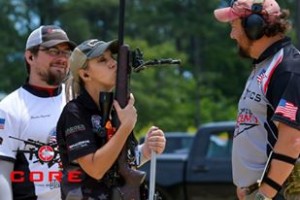 I started the 2016 Precision Rifle Series (PRS) season as the newest team member of G.A. Precision. Joining Team GAP was, in itself, a definite highlight for me. I started my first full season shooting precision rifle competitions in 2013 and joined the PRS in 2014. During the first few years, I always admired G.A. Precision and their roster of shooters. Every chance I could, I would get on a squad that had a Team GAP shooter on it. I wanted to be a great shooter, so I wanted to watch exactly how these guys approached a stage and shot. I really learned alot by doing this, plus picking their brains always helped! Fast forward a few years, many matches later and here I am. To say I was ecstatic when George Gardner asked me to be a part of his team, would be an understatement!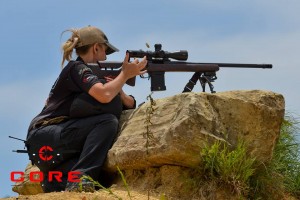 George and his team of builders built me a custom 6mmCreedmoor with Templar VII action in a Manners Stock. I was super excited as I knew the 6mmCreedmoor would be an even more competitive round in the field. With muzzle velocity around 3050fps, I was stoked! This rifle is definitely a laser beam when shooting. I have been super pleased with the performance this past year.
I met with Tom Manners of Manners Stocks at SHOT Show 2016 and he helped me pick out the perfect stock. I fondly named my rifle "Blackwidow" because the paint scheme on it reminded me of spider webs due to the red streaks. Plus, I think a Blackwidow is someone you don't want to mess with cause she is deadly 😉 Also part of my build is a 25″ Bartlein barrel, APA Little Bastard brake, and a Timney Trigger. On top of this beautiful rifle, is my Bushnell Elite XRS 4.5-30. For the 2017 shooting season, I placed a new Bushnell XRS2 4.5×30 on top of the Blackwidow. Can we say sexy?! I have been a huge fan of Bushnell's Elite XRS scope for many years and am overjoyed to be running the new XRS2 this season.
With shooting a 6mmCreedmoor, I needed to reload. I use RCBS for all my reloading equipment needs. My ammunition has consisted of Hornady brass, TulAmmo large rifle primers, Hodgdon 4350 powder and Berger Bullets 105gr Hybrid. I got into reloading so much, that I told my Husband that my rounds were off limits to him! And once I had my ammo loaded, I would tape up the boxes so Jim couldn't mess with them!
Since 1999, GA Precision has been cranking out top of the line custom rifles. George Gardner has been a well respected and sought after custom precision rifle builder not only for competition rifles, but for hunting rifles as well. Visit their website at www.gaprecision.net to see all they have to offer. Trust me, you will be glad you did!