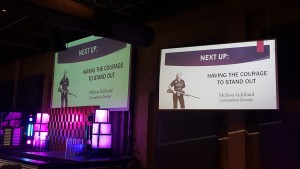 I received a phone call from a dear friend of mine asking if I would be interested in speaking to a group of women at a female firearm event. Of course I was interested. I had been wanting to get my feet wet in the motivational public speaking arena this past year. Well, here was my chance! Heather Burleson, was spearheading a "fashion show" that would feature a few speakers along with a keynote speaker, followed by a fashion show which had ladies modeling different holsters and ways to conceal carry. I loved the concept especially since it benefitted a worthy cause, Building Homes for Heroes. I gave Heather a call and we talked about her idea. I LOVED it! But there was a concern…How the heck, what the heck was I going to talk about?!! I could share my story of trials and triumphs in my journey of Precision Rifle Shooting and maybe help motivate other women to follow their passion.  I had a story but how was I going to tell it and relay it to 100s of people……would they get it? Would they feel every word I spoke?   I was honored to be chosen to come speak, but I was really scared deep down inside. I write and keep a journal basically of all my shooting experiences and relay these into stories that I will publish on my personal blog or its published on Snipers Hide or Sure Shots online magazine. How am I going to relay this same message, but speak it? I will admit, nervousness can bring out some chatter in me!! My boss and good friend Tom Fuller has had many speaking engagements before and he could sense my nervousness. "Let me help you write your speech Miss" Those words were magical to me!! With guidance and a few thoughts, I was ready!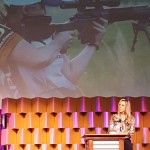 My sister Barbie and her Husband Adrian came down to my house to make the journey with my Husband Jim and I for my speaking engagement. After the 4 hour drive, we arrived at the condo that we rented for the weekend and I immediately started practicing my speech over and over. We went to the facility, Shoreline Church, where the event was being held. It was good to see where and how everything was going to work the next day. That evening, my Husband and family joined Justin & Claire Anderson along with their friend at McGuires for some great food and fellowship!
If you have never eaten there, you MUST. I couldn't decide on just one drink, so I got the beer sampler…..simply divine!
Saturday morning was upon us. I got up early, made the coffee and joined my Husband out on the beach to just sit and relax before the day began. Fast forward to show time! The doors opened at 11:30 am. There were a lot of people, both men and women, who attended. There were different vendors that were set up which showcased their products. Ranger Firearms is a woman owned company and they brought different types of holsters as well as purses to carry your firearm. Other vendors included Otto Arms, Guardian Custom Firearm Coating, and HR Custom Holsters. There was a variety of food that everyone snacked on as well as an assortment of drinks.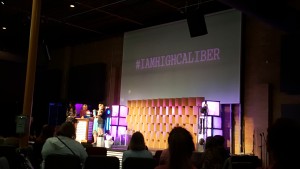 Heather Burleson started the show with some opening remarks followed by Kelly Switzer of Building Homes for Heroes. The video Kelly shared was just heart touching. It is great to know that there are companies out there helping our service men and women in such wonderful ways!
There was an attorney from US Law Shield Attorney speaking on the topic of Florida statutes. It was very interesting listening to him and everything he had to say. After he spoke, there was about a 15-20 minute break then it was my turn to go up on stage.
My good friend, Justin Anderson was there to introduce me on the stage. I met Justin at CORE Shooting solutions last year when I shot a day match. Justin came to shoot the one day match with his teammate right before he shot the International Sniper competition at Ft. Benning. Jim wound up being their coach at the match and I had "fill in" duties one day with the guys. I had such a great time with them, I even attended the banquet the next evening! Sorry, back to my original story…
As I was standing there listening to Justin introduce me, I had so many different feelings running through me. I felt proud, I was scared, I was happy, I was nervous, I was excited, I felt sick……..I was having an out of body experience!!! Then all of the sudden, it was my turn to walk up on that stage.
As I was walking onstage, a few ladies that were working the event passed out bags that Hoppes 9 sent to every lady in attendance. It was some great Hoppes cleaner and swag. That was pretty AWESOME! Everyone in the audience was wonderful and inviting. I walked across the stage, thanked Justin and took the microphone. Then……my mouth suddenly became bone dry. "Just great" I kept saying to myself. I didn't trip walking across the stage, but now my freaking lips are going to stick to my teeth while I try to talk and people are really going to know what a goob I am! I'm sure someone thought "what the heck is wrong with her".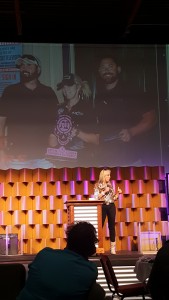 I started my speech with letting the audience know that I was a Cubmaster for our local chapter of cubscouts and that my experience public speaking has been only to 20-30 cubscouts and they definitely didn't look like my little cubs!! And then, I just started telling my story. I talked about my real life experiences in the firearms world, my life today and my love for long range shooting. I talked about CORE Shooting Solutions, which is literally in their backyard. If I lived that close to CORE, I would try and be there once a week or more!! I probably sounded like an infomercial, but CORE is really that spectacular with all the training that they offer including all the different competitions that go on there! I talked about overcoming the negative talk toward me and overcoming the obstacles that sometimes we as females face in a "mans" world. I explained to the ladies, that most competitors in the long range community were extremely nice and were always willing to help you out. I talked about the Precision Rifle Series and what a joy it was to be a part of that series and everyone involved with it. I was able to speak about my sponsors, G.A. Precision and Armageddon Gear. I was proud to announce that I am a Brand Ambassador for Bushnell Tactical and Hoppes 9. Telling "my story" can be a nerve racking. I wasn't sure if it sounded stupid or if anyone would care.
Other than the proceeds of the event going to Building Homes for Heroes, the best part for me was having ladies come up to me afterwards telling me how inspired they became. I had some ladies thank me for telling my story. They had questions about shooting competitions, about CORE Shooting facilities and questions about concealed carry. It was truly a remarkable event.
After I finished on stage, there was another break for shopping with the vendors, then the fashion show segment began. It is really great to see how far the firearm industry has come. There were holsters for women that I didn't realize existed. The industry is really listening to the female population. It is great to know that no matter what outfit I choose, there is a holster I can wear to make sure that I am always protected with my fiream.
Ranger Firearms spoke about safe storage and the negative stereotypes of women and guns. Then an OCSO Crime Prevention officer came to speak about a Home Defense Plan. She was very well spoken and to the point!
At the end of the event, Heather gave her closing remarks and then the raffle began! There were many different items being raffled including 3 different pistols and classes from CORE Shooting Solutions. There were also gift baskets with wine! In the end, everyone had a great time and I hope that Heather plans another one soon. The event raised over $4,550 for Building Homes for Heroes!!
If you would like to more about Building Homes for Heroes, please visit them at www.buildinghomesforheroes.org