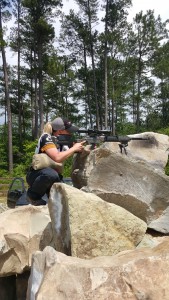 CORE Shooting Solutions (formerly known as K&M shooting facilities) is the place to be when training or shooting competitions. Jim and I both signed up to shoot this match when registration was out. A few weeks before the match, Jim had to bow out due to his commitments of being a Cubscout Den Leader for our son. What was a girl to do now? Load up my gear, jump in the truck and head to Florida on a Friday night! A girl, a gun (well a few to be exact), competition gear and a pony tail flying in the wind with the truck windows down. I love the South!
Early Saturday morning I headed to the range around 6:45a.m. I had brought with me some Armageddon Gear to sell at the match and some gear that a few asked for. After I arrived and got settled in, I headed down to the zero range to make sure Jake was still "on". Jake is my custom competition 6.5 Creedmoor built by Ashbury Precision Ordnance. I have the Bushnell Elite XRS 4.5-30 with G2 reticle mounted in Spuhr mounts. I use the Armageddon Gear Precision Rifle Sling and X-Wing rear bag. I shoot with Hornady 140gr AMAX. For cleaning and lube purposes, I use Hoppe's #9. Only the best for my Jake! In this match, we had pistol in a few stages. "Zeke" my Glock 17 pimped out by Ashbury Precision Ordnance, performed flawlessly.
With gear in hand, my squad and I headed down to our first stage. On a side note here, I have such a passion for shooting long range. Part of going to these matches is the comradery among the competitors. I was on a squad with some great men. I always have questions, so with my Husband not being present, I knew I could count on these guys.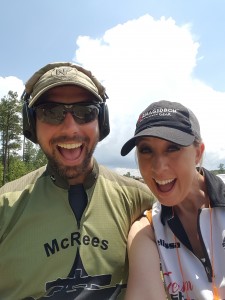 Our first stage was the "bus" stage. With rifle in hand, you had to run to an orange barricade that had 3 port holes. You had two shots at each hole at a single target at 330 yrds. Once you shot all 6 shots, you entered the bus and shot 2 more from the driver side window and 2 from the middle window. Once you completed this, you put your rifle down, jumped out the back of bus and had another orange barricade with 3 port holes that you had 2 shots of pistol through each. You had 3 minutes to complete this. I surprised myself when I made it to the pistol part! Out of 16 points I received 12, not a bad way to start my day!! After everyone shot this stage, our team made our way up to Car cover stage. On this stage, you could not touch your dial. Which means, you set your elevation (if you wanted) and do hold overs for your other targets. I dialed for the longest target which was 735 yrds, then held for my other 2 targets which was at approximately 340 yrds and 450 yrds. Most of you know by now my love for my Bushnell Elite 4.5-30 scope with G2 reticle. I just absolutely adore this scope. I get so excited with doing holdovers. This reticle, though simple, is effective. When doing holdovers, you minimize time by not having to dial elevation, therefore maximizing yourself on a stage to ensure you complete all your hits. I love holdovers.
We shot one stage which was a 300 yard mover. I didn't know this, but my knowledgeable squad mate John Cuckler, who happens to be one of the match directors for The Steel City Precision match, taught me that I could use my Kestrel on these stages. On your Kestrel, there is an area where you can input the speed of the mover and it will show you the hold for it. Since I use the "trap" method on these movers, this little piece of knowledge just came in handy. After lunch we had the 500yrd mover to contend with as well as a hostage stage and more barricade stages.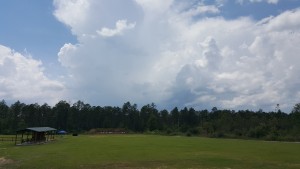 I use a Kestrel in every match. I always have a DOPE card with increments of 50 yrds on it starting with 100 and usually ending with 1000. But these Kestrels are just one of a kind awesome. It calculates the wind, humidity, density altitude, etc in every shot. And with a unique trueing feature, you can always assure that your data will be spot on. If you have never seen what these devices can do, you should check them out at www.kestrelmeters.com. Almost every competitor has one at these matches.
I love these one day matches. There is no prize table and these are just a great way to get training in for the bigger matches. We had 4 stages to complete that morning. We broke for lunch and then shot 4 stages after. Being the only female and out of 51 shooters, I placed 20th. First time to land in the Top 20 and I was excited! Congratulations to James Vick for taking 1st place. Thanks to the RO's who were there and Huge Thanks to Bryan Morgan, Bryan Sikes, Josh Mann and John Watts for holding such a great match.