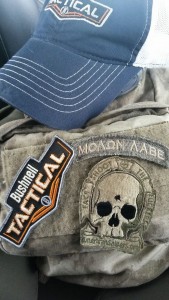 I have to say that I am impressed with Bushnell. I've been shooting for Bushnell for over a year now and they do more and more to awe me with their products. Now part of Vista Outdoor, Bushnell is more than just optics for your rifle.
Like for example, the Bushnell Elite Tactical 1 Mile Arc laser rangefinder. This range finder is one of the coolest I have ever used. It's fully waterproof and has a Bullseye, Brush & Scan mode. This rangefinder instantly accounts for the angle when calculating distance so you know precisely where to shoot and provides true horizontal distance out to 1000 yards/meters. It also has a feature that provides holdover/bullet drop data in inches, centimeter MOA or MIL. This little piece of equipment is just pure badass.
A perfect product, especially for all the hunters, is the BackTrack GPS.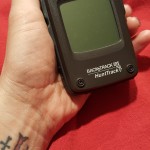 I have the HuntTrack which I just adore. It is simple and easy to use. Let's take deer hunting for example, before you leave your truck to head out to your deer stand, you simply click the "mark" button and then the GPS will start tracking you. This is perfect for when you've been out hunting all day, your deer stand is deep in the woods and you're not really sure of where exactly you parked. Heck, this device will come in handy in airport parking or even at the mall! Some of the other features of this product is the sunrise/sunset & moon phase. It has a barometer, temperature and weather trend as well as an Animal Activity meter and Predictive Graph. Once you register your device, you can also access this app on your computer which has even more features.
Another cool item is the PowerSync Solar Wrap Mini. Coming in at 4.3×1.25 in and 3.1 oz., this is great for Go-Bags, Range bags or purse bags! This solar charging and power storage charges your devices when you're off the grid. Its durable, flexible solar panels roll up into a small lightweight package. On one side it has a USB port so you can charge anything with this connectivity. There are a few different ways to charge the wrap. You can charge it by wall charge or by the sun. It will charge your phone to 100% as well as other devices. This is just nice to have for those just in case moments.
Last Christmas, I bought my Husband a Bushnell TrophyCam. This small device has just been great. We have picked up great photo's of deer, coyotes and even some wild pigs. The picture is clear. You can subscribe to the service where when something crosses the camera path, the photo gets sent to you via text, email or even Facebook! If you are a big hunter or even if you suspect you have people snooping around your home, you definitely need this camera.
These are just a few of the many items that Bushnell offers. I know I have talked and reviewed my scope before, but I wanted to share with you more that Bushnell has to offer. Go check them out!