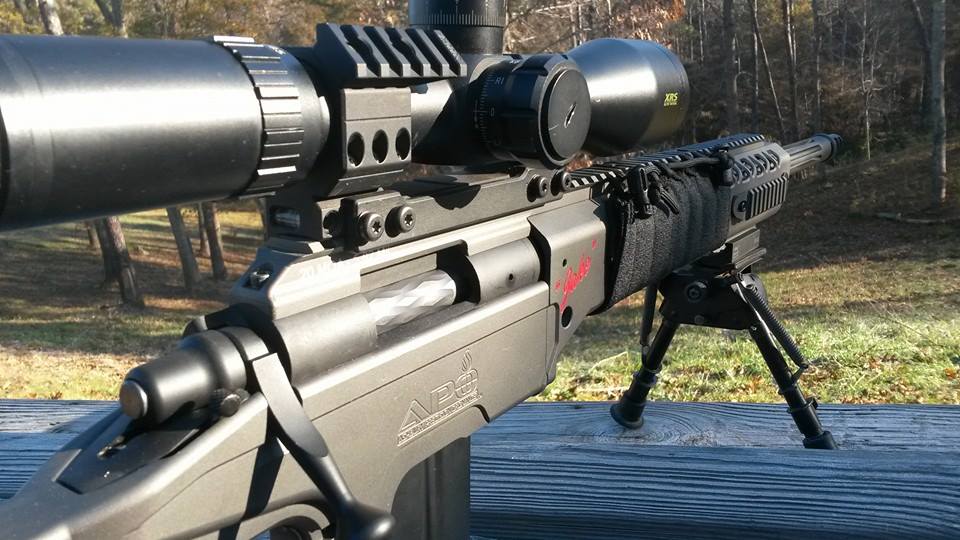 Over Thanksgiving weekend, my Husband and I decided to spend the Holiday deer hunting in our hometown. It's something that we both enjoy doing and a great way to spend time together. I usually bring my Weatherby Sub MOA 308. This year I decided to bring my prized competition rifle Jake. Jake is a custom built Ashbury Precision Ordnance 6.5 Creedmoor with a Pinnacle Series 24" fluted barrel, AAC Blackout brake, Xtreme titanium action, Huber Concepts single stage trigger, with a Bushnell Elite XRS 4.5-30 scope with a G2 reticle. All this glory is wrapped up in an APO Supersport alloy series chassis. Jake has been my partner in crime this past match season. We have traveled all over the U.S. shooting in tactical precision rifle matches from Colorado and Texas to Florida, Virginia, North Carolina and a few states in between. It was only fitting that I brought my bad boy out in the woods to see if he could hit a deer as well as he hit steel during matches. I feed Jake Hornady match 140 gr AMAX and he performs well.
Jim got a head start on me the first morning. We awoke at 4 am and I checked the weather on my phone. 23 degrees outside. I was so warm and comfy, I decided to stay at my in-laws home and hunt in their back yard where there were a lot of deer sightings plus I could enjoy the big cup of coffee in my pajamas. I promised my dear Husband that I would join him in woods that evening as the temperature was sure to be a little bit warmer (a whole 45 degrees). That evening as promised, I joined my Husband. We got in our deer stands around 2:30 pm. I was in a stand facing a big green field and my Husband was in another deer stand about 300 yrds from me. I absolutely love being out in the woods with nature. I had 6-7 big turkeys come out in the field just scratching around and doing their thing.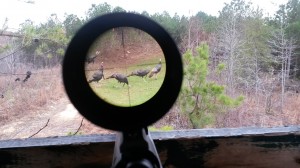 They all had beards on them but I didn't shoot. I didn't want to scare away any potential deer. Those turkeys stayed around for at least 20 minutes before moving on. A few hours had went by and suddenly I saw 4 does. They were about 50 yards in front of me and I looked at each one through my scope. They were beauties. But I just knew that there would be a big buck coming out so I waited. And…..I let them walk away with no big buck in tow. It got to be about dark and Jim texted me to see if I was ready. We went back to the camphouse where the other men were and I just sat around listening to their stories. Jim and I went back to the house to get ready for our next morning adventure.
4 am comes awfully early. I looked at the weather on my phone and it showed that it was 38 degrees. So I jumped up, had a little bit of coffee and got my "hot hands" ready to go! We were back in our deer stands by 5:30 am before daybreak. And…..we sat. And sat. It was Black Friday and I thought to myself, I'm not fighting crowds nor am I spending any money, it's just me and nature and I was quite content. I'm not a big shopper anyway and truth be told, I shop a lot online. A few hours went by and out came the big turkeys again.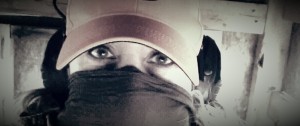 I got bored so I did a selfie photo, trying to entertain myself. I played around on Facebook while keeping my eye on the green field in front of me. Around 12 noon we came out of our deer stands for lunch and around 2 pm jumped back in the stands. It wasn't until it started to get dark that those 4 big does came out again. I measured each one in my Bushnell XRS scope and tried to pick out the biggest one. I aimed right behind the left shoulder because that is where the biggest mass of vitals are, plus that is where my Husband has taught me to shoot a deer. Now, I'm not a person that likes to go out and kill an animal for the fun of it. I like to hunt to provide meat for my family and others. I had perfect placement of my crosshairs on the deer and then I cleanly broke the trigger. One shot and the deer went down. I thought Jake might get a little nervous as he is not use to deer hunting. But he was a pro. I got so excited I texted Jim and immediately I texted Morris Peterson, owner of Ashbury Precision Ordnance to tell him the good news of Jake. After Jim and another guy loaded the deer we took her back to the hunting camp where they cleaned it up. I was so excited over this big doe I got. We iced the meat and got ready to go watch the Iron Bowl. Our night ended great, with a Bama win and thinking about the tenderloin breakfast we were going to have the next morning!