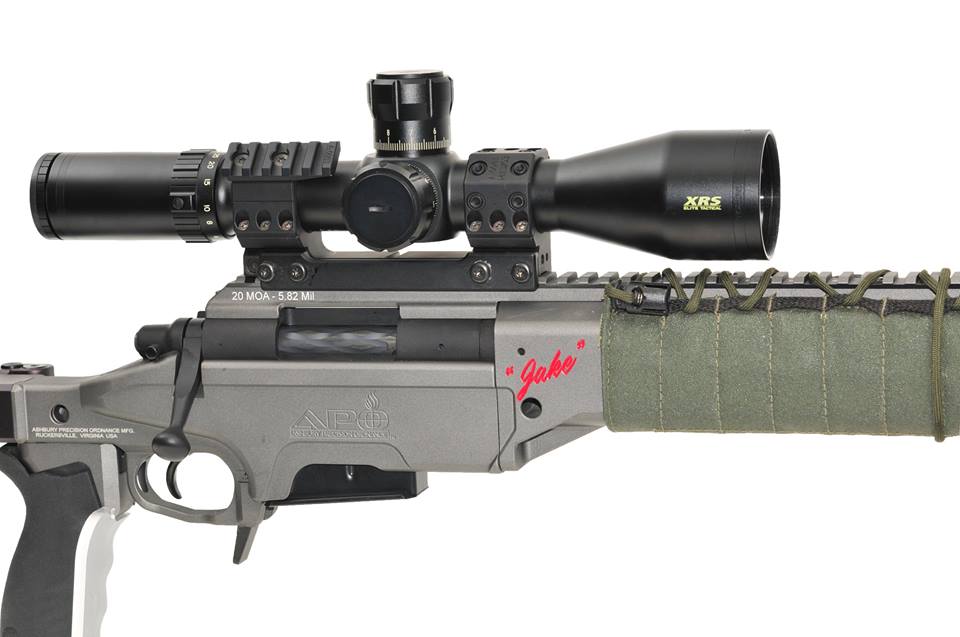 Is it possible to shoot with an optic all season and then suddenly, fall in love with it all over again? Why yes, yes it is! At the beginning of the precision rifle competition season, Bushnell sent me the Bushnell Elite XRS 4.5-30x50mm with the G2 reticle. The XRS (Extreme Range Scope) is sleek in its design and is one hell of a scope. I have this scope mounted in a Spuhr mount on my Ashbury Precision Ordnance custom built 6.5 Creedmoor.
A great feature about this scope is the adjustable zero stop and locking turrets. The turrets are large and easy to maneuver. Again, the locking turrets are a plus. Once you have your wind and elevation dialed, just push the cap down and you are Locked. I zero my rifle and then keep my windage turret locked. My Husband has taught me to hold for wind, so this is why I never mess with the wind turret once it is zeroed. During competition, if I'm on a stage that has multiple targets that I need to dial for, I will leave my elevation turret in the up position which allows me to dial. If I'm on a stage where the target is at one distance, I will then dial my DOPE and lock down the turret. One big reason of why I love the zero stop, is so I know exactly where my zero is (I actually have it set around .3 mils below the zero, for just in case). This way, I won't be second guessing if I didn't dial back down after a stage and then being a whole revolution off (& yes, this has happened to me in the past). The XRS has 10 mils for a full revolution. So far I haven't gotten past a whole revolution but came mighty close at the 2014 Snipers Hide Cup!
In past competitions, I have used scopes with a TRMR2 reticle and just loved it. So getting used to another reticle, well, I wasn't so sure about. Enter the G2 reticle.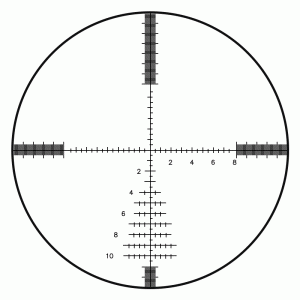 I loved how it was…..just simple. I didn't realize how much I would fall in love with this reticle. I thought I needed the windage dots and all the glamour that went with the TRMR2 reticle. Don't get me wrong, I still love the TRMR2 but after getting to know my G2, I just adore it! The G2 reticle is the brain child of George Gardner, who owns GA Precision. George is no stranger to the firearm community. With George's years of shooting experience, added with his mastery of building precision rifles, it is a perfect storm for him to know how to place the mechanics with the arts. My G2 is in the first focal plane. For those unfamiliar with first or second focal plane scopes, in first focal plane your reticle size changes as your magnification changes. This is extremely helpful in the tactical precision rifle competitions that I compete in. Your reticle stays true to the correct mil size no matter what power you are on. This is more than helpful in ranging multiple targets and for use in holdovers. In a second focal plane scope, your reticle remains the same size no matter the magnification, which means you have to remember at each power what your "would be" mil holds are and correct them per power. In competition, I have always dialed my DOPE for all targets. I know, yes it takes more time to dial thus, reducing the time you have to engage your targets. I was extremely timid in trying holdovers, not because I didn't trust my reticle, but I really didn't trust myself. I had practiced using holdovers in training, but when it came to match day I resorted back to what I knew and that was dialing. When using holdovers, you rely on your reticle. With the G2, you have hash marks at every ½ mil and mil. This makes using this reticle extremely easy and this is where my love for my scope was reignited at a recent match. There were several stages where you had targets that were at least 100 or so yards apart at each one. On one particular stage, you had three targets at three different distances. With these three targets, I would dial in my DOPE for my second target, and then use holdovers for the first and third target. My holdovers were accurate, I engaged my targets and then I got excited! I was really doing holdovers and they were working. I did holdovers on several other stages and did extremely well. I wish I had trusted myself more in other matches to utilize my reticle in these holdovers. It would have been very useful and saved me a lot of time.
The low power of the scope works out extremely well when there are multiple targets close up. You can go to one of the lower powers and have a great field of view to pick them up rapidly. On a distance target, or more importantly for those 100 yrd extreme accuracy drills like the Accushot card or shooting dumdum suckers, the 30 power of this optic really allows you to see EXACTLY where you want to put that round. The lens are clear and crisp and did I mention the objective and ocular lenses have a water-repellent coating called Rainguard HD? I have shot in a few matches where we had downpours. I worried a little at first, but my lenses remained clear and the rain beaded right off.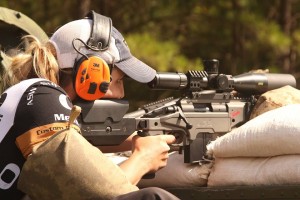 Overall, this has been the best scope I have shot. I love all the features I have mentioned, plus Bushnell is a household name. If you would like to know more about this scope or other Bushnell products, visit Bushnell at www.bushnell.com.
Specifics of the XRS 4.5-30:
Power/Obj. lens: 4.5-30x50mm
Reticle: G2
Lens coating: Fully multi coated and extra wide band coating
Tube diameter: 34mm
Weight: 37oz/1049gr
Length: 14in/356mm
Focal plane: First