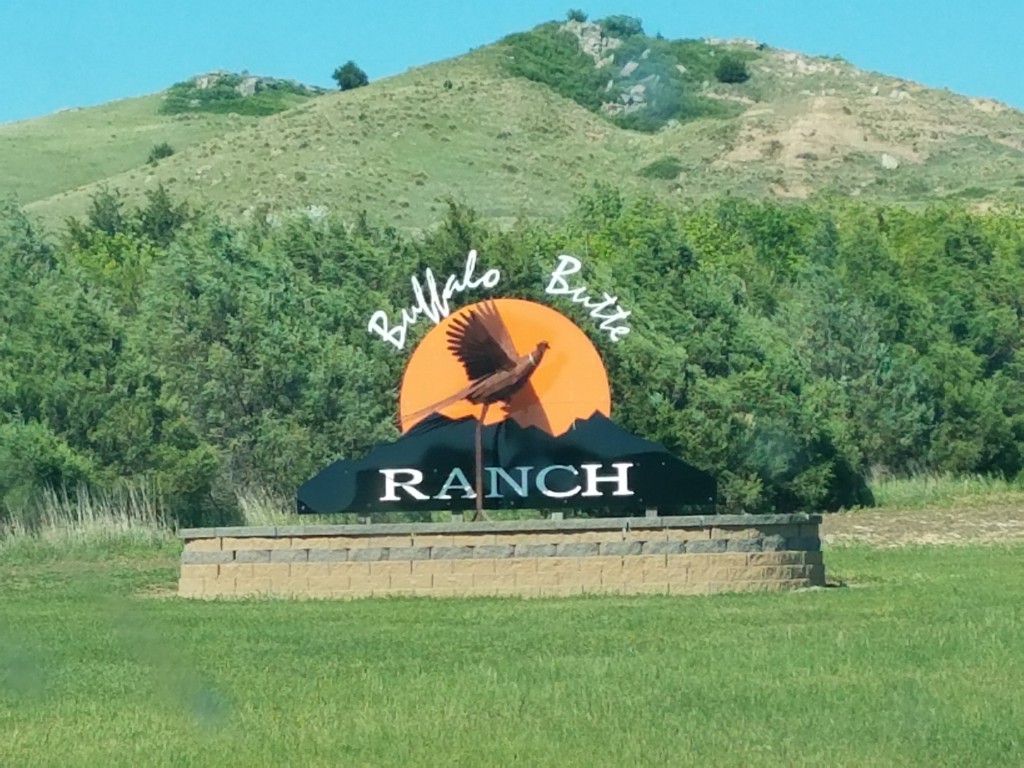 So let's rewind to July 2016. My Husbands birthday was quickly approaching and I am the type of person that loves giving "different" kind of gifts. After hearing a few friends of ours talk about Prairie Dog Hunts, I thought to myself "Now this could be epic".  I researched out places for this epic adventure and came across Buffalo Butte Ranch in Gregory South Dakota. It was all inclusive which meant lodging and all meals were included in the hunt price. After I made contact with them, I reserved a date for this great Birthday present. The only catch was that Jim had to wait 9 months for it!
After the long wait, the time had arrived. Jim decided to drive since we had alot of rifles/ammo and going through the airport just seemed like a headache. I decided to fly out Thursday evening with Jim picking me up and then us heading to the Ranch on Friday. We had quite the adventure on Friday.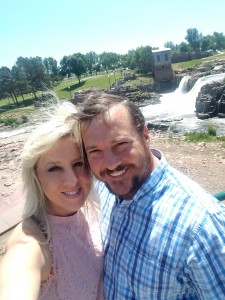 We visited Sioux Falls (which was beautiful) then stopped off at the world famous Corn Cob Palace. This little place was very unique. Inside it smelled of buttery popcorn (no surprise, right?) and yes, it was decorated with corn cobs everywhere!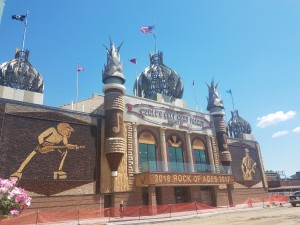 A very unique place to visit if you are ever in South Dakota.  Also on our way was the great Missouri River…..yeah, we had to get a few selfies along the way 😉
After arriving at the lodge, we met a few other lodge guests who were extremely nice. After being shown to our cabin, Jim and I took our rifles and made sure we still had good zero's on all.  Dinner that night was absolutely delicious and the company was just as great!  Jim and I knew from the moment we met the owners, Marshall, Colleen, Dillon and Rachel, that this trip was going to be special.
We got up early the next morning and joined some fellow hunters up on a hill by the lodge to shoot at some of the steel targets that were scattered throughout. Target ranges were from 500 yrds out to 1500 yrds. Jim and I both plinked around the steel with those guys until breakfast was ready. After a full belly and couple cups of coffee, I was ready for the day.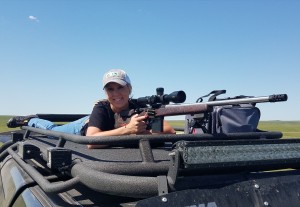 Dillon Springer brought Jim & I out to some private land for our adventure. We parked our truck and jumped in with Dillon so he could show us around. Dillon knew I wanted to break the record at their lodge for the longest prairie dog shot. We were up on a hill that overlooked a valley of prairie dog towns. We took my Bushnell Fusion 1 Mile Arc laser range finder and ranged a 1400 yard spot. Dillon brought us back to our truck and since the wind was kinda still (2 – 5 mph) we knew I had to get started to break the record. Jim drove back to the spot Dillon brought us to but Jim parked a little higher up on the hill. After grabbing my Bushnell Fusion 1 mile arc laser range finders, we ranged a berm full of prairie dogs at 1,644 yrds. I just shook my head. Go big or go home, right?  I grabbed my GA Precision custom built 6mmCreedmoor along with some ammo that I had loaded for the previous weekends match, and climbed up on the shooting tower on top of our truck. On a side note here, I wasn't too keen of this shooting rack when the truck was being built. After shooting for 2 days off it and not having chigger bites….I love this thing! Thanks Carolina Custom Towers & Down East Offroad! The wind was pretty calm so I knew I had to work fast in order to accomplish some shots. With my Kestrel in hand, I put the target distance at 1,644 yrds.  My elevation was 17.3 mils.  I dialed this on to my Bushnell Elite XRS 4.5 x 30 scope. With some freshly reloaded ammunition, I knew I could do this. My ammunition consists of Gold Match primers, Alliant Reloder 16 powder, and Berger Bullets 105gr Hybrids which I personally load myself on all my RCBS equipment.  From where I was prone, wind speeds were between 2 – 5 mph from 3:00.  My Kestrel showed my wind holds from .6 mils to 1.2 mils.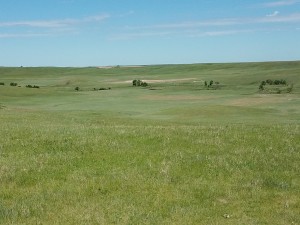 We set up my Bushnell Elite Tactical Spotter and Jim told me he was ready. After adjusting my Armageddon Gear rear bag, I gazed through my scope and was excited to see that this particular berm stretched out and had multiple prairie dog holes all over it!  I spotted a prairie dog and put my first shot down.  I was 2/10ths low.  I adjusted my elevation to 17.5.  I watched patiently on this berm until I spotted more prairie dogs. I sent another shot down by holding for wind right of the prairie dog at 1/2 mil.  The shot impacted about another 1/2 mil to left of my target. Ugh, I didn't give it enough wind. I was on this berm for probably about 15 minutes sending shots down until I impacted one! At this point I had my wind call (with fingers crossed it wouldn't change much) and walked Jim on to the mound that I was over-watching. We really wanted to get this on video so Jim used his phone to try and record a shot by using the video/camera while looking through the spotter.  It took a few more shots (due to wind holds) until I successfully impacted another one!  I set the new record for Buffalo Butte Lodge for the longest prairie dog shot at 1,644 yards! What was pretty cool about all this was, when I pulled the trigger you had to wait quite a few seconds before that Berger Bullet met its target! That was one of the coolest! Jim got a few of my impacts on camera and I was stoked to be able to tell everyone about this!!  Jim was itching bad to get his rifle out and start hunting.  We loaded in his truck and drove another few hundred yards away to get settled in a spot to start the hunt!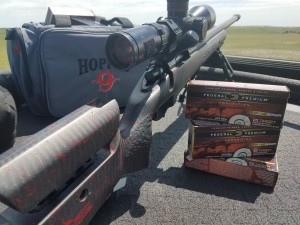 We were on top of another small hill and there were prairie dog mounds EVERYWHERE!  I put my competition GA Precision 6mmCreedmoor away and brought out my custom built GA Precision .223 trainer rifle. This rifle is set up exactly like my competition rifle. They both are set in a Manners Composite Stock, Bartlein Barrel, APA Little Bastard brake, Timney Trigger with the GAP Templar V2 Action. I have an identical Bushnell Elite XRS 4.5 – 30 on top of this little beast. I had several rounds of Federal Ammunition .223 73gr Berger Bullet BT so I knew these little rats were not going to get away.  Jim and I spent the rest of the afternoon slaying these little rodents from 100yrds out to 600 yrds. It was really an awesome day!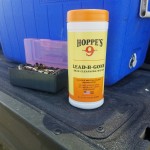 Another great thing about Buffalo Butte Ranch was that they pack you a stocked cooler. We had waters, Gatorade, sandwiches, chips and candy bars to snack on all throughout day.  I brought along my Hoppe's Lead-B-Gone wipes so we had clean hands before chowing down!
That evening we met back up at the lodge and had another wonderful dinner prepared by Rachel and Colleen Springer. They were so sweet and knew I bought this trip as a Birthday present for Jim. They had Birthday cake for dessert.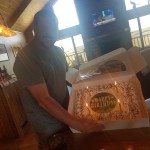 Another full day of prairie dog shooting was upon us on Sunday morning. Jim and I was brought back to the private land that we were at the day before. We thought we slayed alot of prairie dogs the day before but it seemed like there 1,000's more!!  We spent all day shooting. Not only was prairie dog hunting fun, but it was also great as a training tool. I would look through my scope and see some 400-500 yrds out. I would then watch the mirage to get a wind hold. Not only was this great for mirage training, your target was really small as well!
This was an absolute wonderful trip and one that Jim and I will be taking annually for years to come. Go check out Buffalo Butte Ranch at www.buffalobutteranch.com … Not only do they offer prairie dog hunts, but they are really known for their Pheasant hunts too! Thanks Marshall, Colleen, Dillon and Rachel Springer. Your hospitality was beyond anything we have ever experienced and you guys definitely have lifetime customers in us!