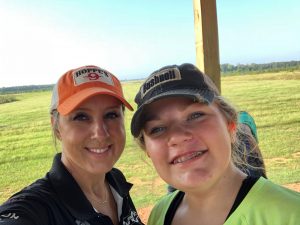 So here we are already at the end of September and the precision rifle season is slowly coming to an end. Along with the 2 day National matches, the one day club matches are just as important. You meet alot of new shooters at the one day matches and it is also great training for the bigger 2 days.
This past Saturday I had the pleasure of taking a fellow Bushnell ambassador with me to the range. Cabella Fuller is a sponsored Jr. Ambassador for Bushnell. She mostly hunts but really wanted to give a one day match a try. Plus, she is getting ready to shoot at the GAP Grind Pro/Am with her Dad. I thought it would be a great time for her to get a little practice in, so she tagged along with me. I really enjoy helping new shooters, especially ones that I know well and love!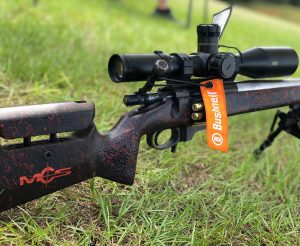 Cabella and I got up really early Saturday morning to make the 1.5 hr drive down to Arena Training Facility in Blakely Georgia. We had the shooters brief around 7 and then got started shortly after. Phil Cashin of Masterpiece Arms (MPA) has been the match director for these one day matches this past year at the beautiful facility of Arena Training Facility in Blakely Georgia. There were 47 competitors, 9 stages and 92 rounds to complete the course of fire.
I brought my GA Precision custom built 6mmCreedmoor "The Blackwidow" to this match. This rifle has a 26″ Bartlein barrel, APA Little Bastard brake, Templar V2 action, Timney Elite Trigger all wrapped up in a Manners Composite Stock. I have this pretty baby topped with a Bushnell Elite XRS 4.5-30 in Seekins Low Rings. I reloaded my ammunition on all RCBS reloading equipment. I used the Lapua 6mmCreedmoor brass, Federal Premium small AR rifle primer, Hodgdon 4350 powder and Berger Bullets 105gr Hybrid. I was so excited to discover that Lapua made this brass. It is fantastic!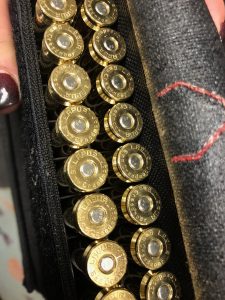 The bags I use on all stages were my Armageddon Gear Fat Bag large and my OG Gamechanger in wax canvas. Alot of times, I switch these bags out and use them as rear bags if I am shooting prone. The closest target we shot that day was 455 yrds with the furthest being 1,225 yards.  Spotting targets were pretty easy with my new Bushnell Forge binoculars 15×56.
During this match, I would show Cabella how to shoot off the different barricades and coached her all day. I talked to her about the importance of the mental game and not worrying about the time clock. We all started somewhere and I was more than happy to help her in her 1st match.
I finished 4th place overall and Miss Cabella finished 28th. Not bad for her first match! Congrats to Josh Hunter for 1st, Michael Keenan 2nd and Rexx Hudgins 3rd. Thanks to Phil for having a great match and everybody who stepped up to RO. Big Thank you to Eddie Noland and Beth Chandler for the use of Arena Training Facility.  Huge Thanks to all my sponsors for their support!  GA Precision Bushnell Hoppe's Federal Premium  Armageddon Gear Berger Bullets RCBS XGO Manners Composite Stocks