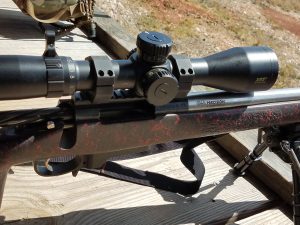 I have had a few people ask me with puzzling looks "You shoot a Bushnell optic"?  and I always respond "Heck yeah I shoot a Bushnell"!  If you are not familiar with the quality and ruggedness of this scope, let me give you one of the many reasons why I choose Bushnell:
A few weekends ago, I shot the CORE Shooting Solutions Long Range Challenge in Baker FL. The day started off cool with 62 degrees and cloudy skies. The temps stayed steady all day and it was quite pleasant weather. With only 8 stages in the match, you had to stay on top of your game. Mike, Josh and gang picked out the "favorite" stages. I shot really well on most.
Fast forward to the last stage of the day. It was about 2:30 p.m. and the cold front had just came through. The temperature had dropped and it was misting rain. The last stage for me happened to be the tower stage at the lower end of the range. This stage was shot prone. You had 6 steel targets with various distances and sizes. Distances: Prairie Dog1 on a pole: 181 yrds, Prairie Dog2 on a pole: 268 yrds, Pig1: 338 yrds, Pig2: 453 yrds, Coyote 620 yrds, and Kangaroo 731 yrds.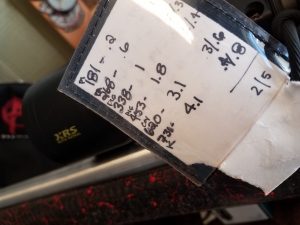 Engage each steel target with 1 round only closest to furthest, then start the same sequence again. 12 rounds max.  I was one of the first four shooters to go up on deck and luck had it that I shot first. It started sprinkling rain. I shot Prairie Dog 1 "Impact", Prairie Dog 2 "Impact". Then it started to rain hard.  I shot Pig1 "Impact". The rain beat down harder and I could make out the Pig2 target. I increased my magnification on the Bushnell XRS to try to get my target in view…Ha, there it was. I shot at the pig target….Ting! "Impact".  At this point, it was raining so hard you could barely see the Coyote Target at 620 yrds. I came down on magnification to find the pig targets, then increased again and caught a faint glimpse of the coyote target. It was raining so hard I thought the RO would stop the stage until the rain stopped, but noooooo. I pulled the trigger and you could hear a "ting". The RO even said, "I don't know how you saw that but you hit it"!  I responded with "It's all in my Bushnell Baby"!!  I barely could make out the Kangaroo target…"Impact". Now I had to start over again. I impacted Prairie Dog 1 and 2, Impacted Pig 1 and 2 (barely being able to see them through the hard rain). The Coyote target was next at 620yds and I knew I was getting close on running out of time (2 minute par time). I couldn't see it at all. No faint glimpse of a target, nothing but hard hard rain. I shot at the pig target again just to get a round down so I could move on to the Kangaroo. The Kangaroo target was a little bit bigger so I barely could see him and pulled the trigger…..Ting! "Impact".  11 hits out of 12, not bad at all for barely being able to see your target in hard Florida rain! I was soaked from head to toe, cold and ready to change into some warmer clothes.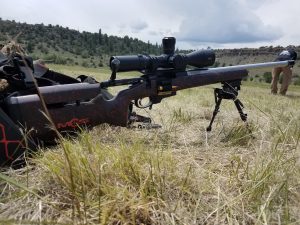 I definitely owe these hits not only to my badass GA Precision rifle and Federal/Berger reloaded ammo, but if it wasn't for the quality piece of glass made by Bushnell, there is just no way I would have had that many hits in the pouring down rain. The objective and ocular lenses in the Bushnell Tactical Elite XRS have a water-repellent coating called Rainguard HD. For stages like this one, you are extremely grateful for a quality scope! Here are some specifics of the XRS 4.5×30:
Power/Obj. lens:             4.5-30x50m
Reticle:                           G2
Lens coating:                  Fully multi coated and extra wide band coating
Tube diameter:               34mm
Weight:                           37oz/1049gr
Length:                           14in/356mm
Focal plane:                    First
Not only does Bushnell manufacture some great optics, they have alot of other offerings as well. Check out their website and see what they can do for you at www.bushnell.com