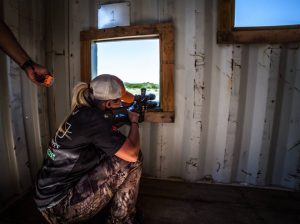 Want to start competing or learn more about Long Range shooting? This class is designed specifically for ladies who want to compete or use their long range skills for hunting. This course will cover a number of topics (listed below) and will help you become more proficient and confident with your gear on the course.  We will be shooting targets out to 1,000 and beyond. This class will be taught at the beautiful Arena Training Facility in Blakely GA. Lunch will be catered for this event. There are cabins on site (an additional charge applies). Join us Friday evening for a bonfire of fellowship, adult beverages and gun talk! Class will start Saturday morning at 8:00am and will last until you don't want to learn anymore!
TOPICS COVERED
Safety
Equipment selection and maintenance
Marksmanship fundamentals
Zeroing
Gear selection
Body positions
Range estimation
Introduction to wind reading
Holdovers
Intro to barricade shooting
Non traditional positional Shooting
GEAR REQUIREMENTS
Hearing and eye protection
Pencil/pen and notepad/databook
Rifle capable to shoot groups at least 1 MOA at 100 yrds
Rifle's available to rent
YOUR RIFLE NEEDS TO BE ZEROED AT 100YDS AHEAD OF TIME
Rearbag for support
 Scope:

Mil-Dot reticle or MOA reticle with external adjustable knobs for elevation and windage.
Magnification

Bipod
Sling (optional)
Tools for your optics and rifle, in case adjustments are needed
Appropriate clothing (long pants, etc… We will be in the dirt/rocks)
Comfortable footwear for rough terrain
Rain gear (just in case)
Hat
Backpack for gear
Snacks. (Water and lunch) will be provided
200 rounds of quality long-range ammunition: Having data cards or a phone app or Kestrel is recommended.
Shooting mat [optional; we can provide one for use if needed, free of charge]
TO SIGN UP FOR THIS EVENT, PLEASE VISIT:  https://www.arenatrainingfacility.com/events-1/ladies-intro-to-precision-rifle-competition-with-melissa-gilliland