I must first say, I love Steel City Precision!!  The Match Directors, John Cuckler and Richard Crouse, have always put on really, really fun and challenging precision rifle matches in the past, so I knew this match was really going to be a great one!! Plus, they both are great all around guys. As they have done in the past 2 years, they have always given back. And by that, I mean charitable giving to the Army Sniper Association. In the past 2 years they have raised over $16,000 for the Army Sniper Association's Fallen Sniper Fund. Here is an excerpt from the Steel City Precision website: "The team at Steel City Precision believes very strongly in serving those that serve our country, and our communities. Each team member, has made a firm commitment to this cause. This is the primary driving factor for all events we provide. For the third year in a row, this match will be a benefit match where we will donate a portion of the proceeds to the Army Sniper Association. There will be opportunities for fundraising via raffles etc.., so bring your check book!" This year was no different….well actually, it was. Steel City Precision raised well over $17,000 this year alone for the Army Sniper Association's Fallen Sniper Fund!! Such a great cause for a wonderful organization.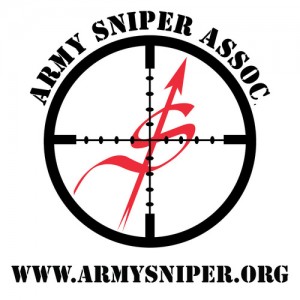 I was so excited for this Precision Rifle Series (PRS) match. This was the first big match that I have ever competed in that was this close to my home. I was able to sleep in my own bed and be at the range within 35 minutes!! The match was held at the facilities of National Security Associates (NSA) in Cusseta, Georgia. I have never been to this range before and boy was everybody in for a treat! Here is a little about them, from their website: "NSA specializes in Military and Law Enforcement basic, advanced and specialized training for the tactical professional. Our 700-acre complex is complete with ranges to facilitate any dynamic entry breaching situation. Whether manual, ballistic, thermal or explosive dynamic entry we can support your training or testing needs."
The week of the match, I reloaded all my match ammo using my RCBS equipment. I use Hornady 6mmCreedmoor brass, TulAmmo Large Rifle Primers, Hodgdon 4350 powder and Berger 105gr Hybrid Bullets. I loaded up over 200 rifle rounds then used my MagnetoSpeed to chrono my new load. My competition rifle is a custom built GA Precision 6mmCreedmoor with Templar V2 action with a Bartlein 25″ barrel, Timney Trigger, American Precision Arms Little Bastard G2 brake all in a Manners Composite Stocks MCS-EHT GAP elite. I top this sweet little rifle off with my Bushnell Elite XRS 4.5-30 optic. My rifle is so badass, I fondly named her the "Blackwidow".
The match started early Saturday morning with the safety brief at 7:00 a.m. Did I mention it was like 42 degrees that morning? I wore some of my XGO base layer clothing under my shooting jersey, and it kept me comfortable and warm all during the day. There was around 120 people competing in this match. There were 4 shooting areas that was designated "A, B, C, D". We had to move together as a squad to each of these designated areas. My squad, Squad 5, started with D that morning, which included stages: PRS Skills 3, PRS Skills 4 and Oh Snap stages. The 1st was the PRS Skills Stage 3 which consisted of 2 targets at 385yrds (2MOA left side and 3MOA right side) and 2 targets at 556 yrds (2MOA left side and 3MOA right side). The shooter had to shoot the 2 left side targets near to far then do a mandatory mag change, then shoot the same left side targets far to near. Then you had to transition over to a prop (box) and engage right side targets near to far, do a mandatory mag change, then far to near. First stage of the match, cleaned it! That was definitely a great way to start!! We shot 2 other stages in that area. After finishing Area "D", my squad loaded up our gear and hiked over to Area "A".
Area "A" had 10 stages within itself. Each stage had its own level of difficulty and challenge. One of my favorite stages in Area "A" was Stage 7: Counter Sniper. On command from the designated start position, with rifle empty bolt back, slung, the shooter will climb the ladder and establish a firing position while standing on the ladder rung of their choice. The shooter will engage Team 1-Team 3 targets, with 1 impact per target. You must engage all sniper targets first, followed by the spotter target at each position. T1 targets at 946yrds, T2 targets at 950yrds and T3 at 969 yrds. If you impacted all 6 targets, there was a bonus 10″ circle target at an unknown distance for extra points. 10 rounds max and 90 seconds to complete COF. I got to the bonus target then timed out. We shot this stage toward the end of the day and the wind was kicking everyones butt! I use my Kestrel Applied Ballistics wind meter on almost every stage. I typed in wind speeds of 4mph and 8mph and my wind holds were dead on! Another cool stage in this area was Stage 10, Tripod Skills 2: On command, shooter would move into designated shooting area with 1 tripod as their primary support. The shooter will build a position using the tripod, locate and engage the 5 designated rifle targets with 2 impacts each. For this stage, I used the Reasor Game Changer bag. I place the Reasor Game Changer bag on the tripod and was able to successfully hit 4 of the 5 targets before timing out. We only had 90 seconds to complete the course of fire. Tripod shooting is one of my favorite things to do!! My squad ended the day with completing Stage A.  Barbeque was provided by Clearview BBQ out of Columbus Georgia and of course, Armageddon Gear had a cold beer waiting for everyone!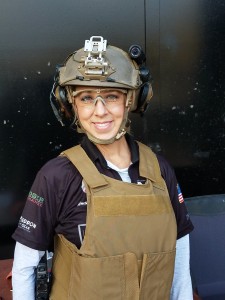 Day 2 started at 7:30 a.m. at your next staging area, which for Squad 5, was Area "B" Stage 11: KIMS shoothouse. I'm going to be very honest here, I have never had to "clear" a room, nor have I ever had to remember items of significance while "clearing" a room. Pistol shooting while moving fast and trying to remember what was in each room proved to be a very difficult task for me. The Brief: Starting with pistol loaded and in the low ready position and on command the shooter will advance through the shoot house engaging all cardboard targets as they become visible with 2 hits anywhere. Of course, there were hostage targets, so you definitely did not want to shoot those! You had 90 seconds to complete clearing all rooms while shooting targets and remembering things of significance. At the end of the stage, you walked into a room where you were given paper and a pencil. You had 45 seconds to write down the things of significance that you remembered and you had to write a descriptive for them too. I openly admit, I am definitely not the best pistol shooter. If I have to shoot pistol in a match, I use my Glock 17 which had a face lift thanks to Ashbury Precision Ordnance Custom Shop. My Glock is outfitted with a Trijicon RMR, Zev Trigger & custom work on the slide complete with my Punisher Kitty slide cover plate.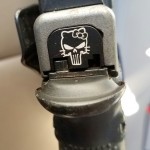 On top of trying not to shoot the hostage & remembering things of significance, you had to do all this while wearing body armor and a helmet. I've never shot a stage like this before. Apparently, my pistol skills really suck too. And the things that looked important to me were not important nor the right answer. Like for example, there was a bed with a huge burn spot in the middle of it in Room 1, not significant though……or how about the pearly colored lamp knocked over in room 3, No, not significant either. Nor the umbrella looking thing, that really looked like a big pool umbrella holder…which, was actually an RPG.  I've never seen one of these before, so yes, it looked like a big pool umbrella holder (can you see it?).  

Lets just say, this stage was worse than any stage I have ever shot and yes, I ended up with negative points which killed me in rankings. I have never played a KIMS game before. So what did I do after the stage was completed? Laughed. And I laughed really hard at myself, ugh.  My favorite stage from Area "B" was Stage 13: Break Contact. Shooter will start at the bottom of stairs with rifle empty & 2 magazines loaded with 5 rounds max each. On command, shooter will go to the top of the structure (3rd story) and engage 3 targets from the provided tripod in position #1 with 1 round at each target (targets were between 315yrds to 360 yrds). After engaging those 3 rounds, shooter had to pick up and carry the sensitive item to each shooting position (you could not forget this item or none of of your points counted). Position #2 you had to stand in a window and shoot off hand at a 100 yrd target with 2 rounds. While carrying the sensitive item, you ran downstairs and engaged the same 3 long targets from window #3 and then you made your way out to the deck area where you had to shoot the 100 yard target either off the railings or prone. Max time to complete stage was 2 minutes. Did I mention those 2 minutes felt like 3 seconds? Though I didn't time out (got the last round off when they yelled time), I only dropped 2 targets and remembered my sensitive items all the way through…Score!!
The last Area for my squad was Area "C". This was all paper targets and the ROs (Walt Sailers and Mark Kuczka) were fun and hilarious. The 1st stage of the area was the Accushot card at 100 yrds. Each shooter had to set up his rifle then stand behind it. When the RO blew his whistle, you had 6 seconds to drop down behind your rifle and shoot your target. The next stage was called 1MOA or better. Shooters would stage their rifle and 6 rounds at firing line, then walk to the target board (100yrds) with RO for stage brief. After briefing, shooters performed jumping jacks while ROs walked back to the firing line. When RO reached the firing line, he would blow a whistle to signal shooters to return to the firing line at a sprint/run/jog. Once reaching the firing line, you had 60 second prep time. After those 60 seconds, RO blows whistle again to signal shooter which now have 45 seconds to load rifle and engage the circle target with 1 round, then the tiny square target with 5 rounds. This was my favorite out of Area "C". The last stage was 3 positional rifle skills.  I rely heavily on my Armageddon Gear precision rifle sling with the support loop feature. I had magazine feed issues upon starting so that slowed me up a bit plus it got me frazzled because I knew time was ticking. Upon transitioning from standing to sitting, my support loop fell down my arm, which did not allow me to utilize my sling to its fullest. I will admit that over the past year, I have loved shooting positional! The more you practice it, the more comfortable you get with it.
Congratulations to good friend and fellow shooter Ryan Castle for taking home the Win of this match. I love seeing great guys like Ryan, who really give back to this sport, taking away a Win!! Congratulations to Tyler Payne and Jason Greene for 2nd and 3rd place respectively. Out of 120 competitors, I placed 50th (that Kims stage really hurt me bad). This was a tough match with some really great shooters competing. I want to Thank all the guys on Squad 5 for making this match fun….I would love to shoot another match with all you again! My best friend Candice Horner and I teamed up after the match for lots of great laughs and beer. One of the things I absolutely love about this sport, is the camaraderie among the competitors. I have made some of the greatest friends from this sport. I know they would have my back in an instant as I would theirs.
Thanks to John Cuckler, Richard Crouse, All the RO's who selflessly gave up their time to spend the weekend with us, to the National Security Association for the use of their range and to the Army Sniper Association for all they do. Please visit: www.armysniper.org for more information about this great organization. To learn more about this match and more, visit www.precisionrifleseries.com.  Big Thank You to my sponsors: G.A. Precision, Bushnell, Hoppe's, Armageddon Gear, Berger Bullets, and XGO…….Your support this past season has definitely helped me become a better, more confident shooter. I thank you all from the bottom of my heart and look forward to representing you well in 2017.